Driving a rental car in Costa Rica is a great adventure. The car will be your faithful companion while on your road trip, so you want to prepare well. In this article, we write more about what kind of car you need, insurance, age and driver's license, what the cost of a rental car is, as well as other useful information and tips.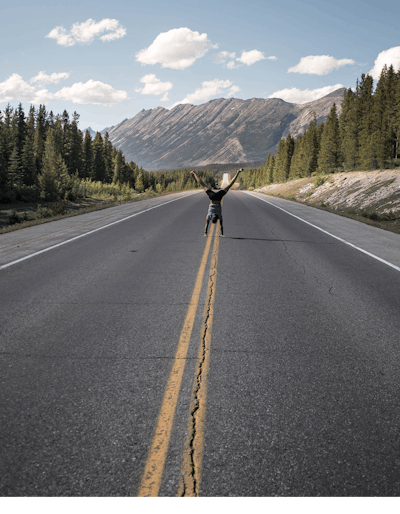 Planning to rent a car in Costa Rica?
Use the Road Trip Car online platform to find car rental companies best suited for your trip.
start search
4x4 or regular passenger car rental in Costa Rica
Many people wonder if it is necessary to rent a 4x4 in Costa Rica.
If you stay near the big cities like San Jose or Liberia, a regular car will suffice. This is because the roads there are paved. But most people will want to go to places like Monteverde, Drake Bay and Santa Teresa during their trip. In that case you will need a 4x4.
We have written a separate article with extensive information about renting a 4x4. There are even 4x4 cars with a rooftop tent, making your adventure complete!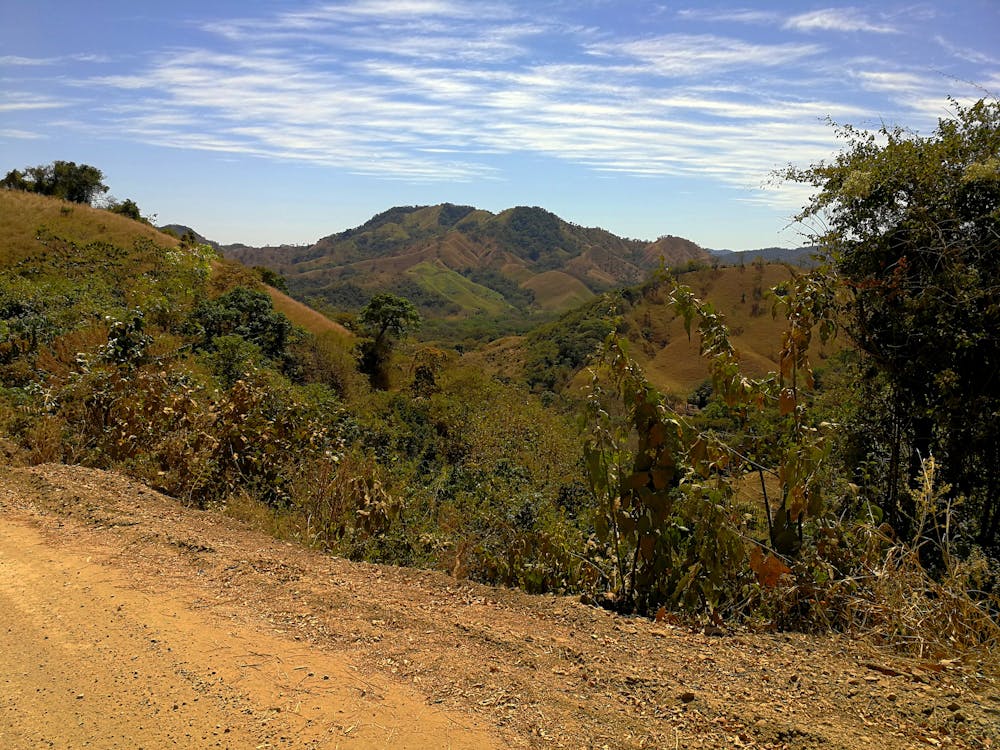 Rental car insurance in Costa Rica
For a rental car, you want to choose a good insurance policy, but what about in Costa Rica? Rental companies in Costa Rica have their own conditions and must comply with local legislation.
To create clarity, we have created the following overview.
Rental car insurance in Costa Rica is generally structured into three levels:
Standard and legally required
Standard rental contract: You are responsible for all damages to the vehicle, with no maximum amount. A car rental with only a minimal rental contract, is therefore quite risky.
Third party Liability: This is legal liability coverage. It is almost always included in the standard rental rate.
Additional coverage
Loss Damage Waiver (LDW): The LDW limits the deductible for damage to the car.
Personal Accident/Effects (PAE): This option compensates for damage to occupants and personal property.
Windows and Tires (S&T): With S&T you are covered for damage to tires and windows.
No own risk
Supplemental Liability Coverage (SLC): With this option, your deductible for third-party damage is reduced to zero.
Zero Deductible: After the deductible, your own risk for the purchased options is reduced to zero.
All-risk insurance: There are also rental companies where it is not necessary to check individual modules in order to obtain insurance with full coverage and no deductible. These rental companies often offer an insurance option where you are fully insured for all damages. However, there can also be considerable differences between providers of this type of insurance.
Want to read more about insuring a rental car? In this article we have more detailed information about insuring your rental car in Costa Rica.
Rent a car without a credit card?
Want to rent a car in Costa Rica without a credit card? That limits your choices tremendously. Rental companies require a deposit via credit card to ensure that fines or damages are paid by the renter.
The only way to rent a car in Costa Rica without a credit card is with a prepaid credit card. The disadvantage of renting with a prepaid credit card is that it takes much longer before you get your deposit back. In addition, you have less choice of rental companies and rental cars.
Using a credit card to rent a car in Costa Rica provides the most convenience.
On another page of our website, we have described in more detail about how to rent a car in Costa Rica without a credit card.
Driver's license and age for car rental Costa Rica
In general, you must hold a driver's license for at least one year in Costa Rica to rent.
Most rental companies in Costa Rica allow you to rent a car from the age of 25. Fortunately, for the younger drivers among us there are exceptions:
Age 18 to 21: For this age group, the number of rental companies and possible rental cars is very limited. Higher rental rates and deductibles apply;
Age from 21 to 25: You may rent from most rental companies, but the cars you can choose from are limited. You can expand the selection by paying extra, which lowers the minimum age for the particular car. Because you are considered a young driver, higher rental rates apply;
Age 25 and up: you can rent a car anywhere. Do note you must hold a valid driver's license for more than one year;
Age from 65: depending on the rental company, a maximum age may apply.
Want to know more about renting a car at your age? On this page, read all the information about from what age you can rent a car in Costa Rica.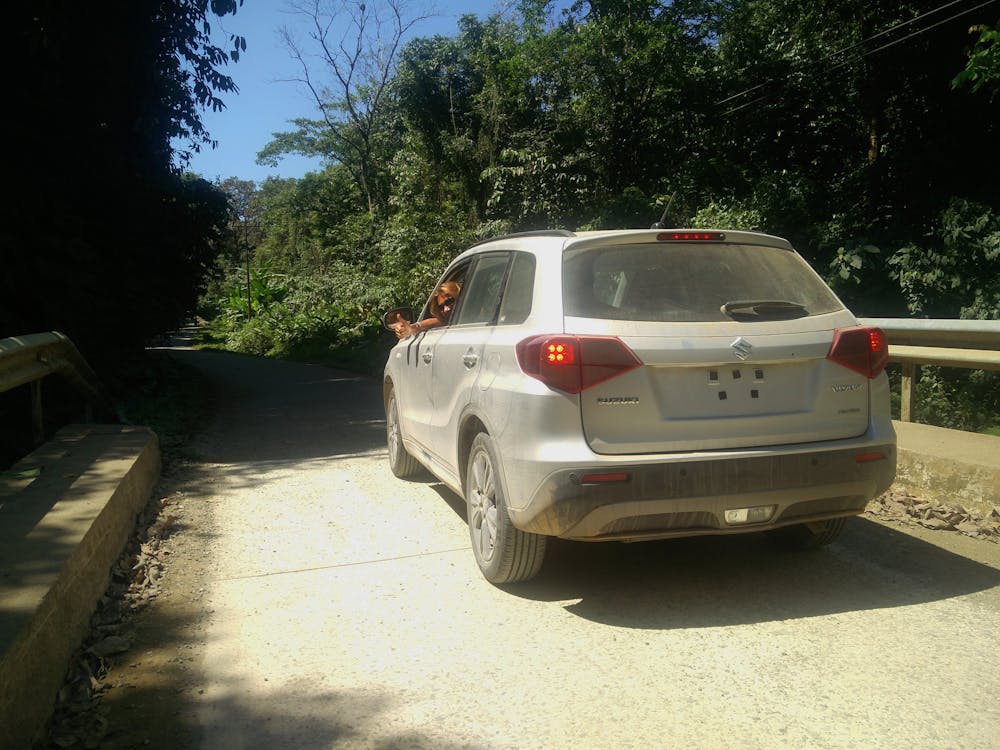 Driving in multiple countries
Want to extend your road trip and also visit Panama or Nicaragua? Then check the conditions when booking the rental car. There you can find whether you can drive with the rental car outside Costa Rica. This is not the case with all rental companies.
Dropping off the car at another location
Does it suit your trip better to return the car at a different location than where you picked it up? This is usually not a problem. Even during your road trip, you can change this, just contact the rental company.
The additional cost of returning the rental car at a different location is usually around 61 USD (€50).
Cost of a rental car in Costa Rica
To give you an estimate of the cost, we researched the cost of a rental car in Costa Rica.
In doing so, we compare rental cars that are fully insured and have a zero deductible. The rental period was 14 days. The list below is only an estimate; in busy periods the costs will be higher.
See below for what it costs to rent a car in Costa Rica, from the cheapest rental company with all-inclusive insurance:
Important! The prices below are based on the time before the current disruptions in the market. It's not known yet if the prices are going to recover in the short term. Rental car prices are currently a lot higher than normally. Keep this in mind when searching for a rental car.
36 USD (€30) per day for a small car, such as a Toyota Yaris;
49 USD (€40) per day for a medium-sized car, such as a Suzuki Vitara;
61 USD (€50) per day for a large car, such as a Suzuki Grand Vitara;
78 USD (€65) per day for a minivan or large SUV, such as a Toyota Fortuner.
Car rental locations
Rent a car in San Jose
For many, San Jose is the beginning of a road trip. You don't have to rent a car immediately upon arrival. For example, you may want to visit the city itself first. It is then faster and often cheaper to pick up the rental car directly from the offices of the rental companies.
Rent a car in Liberia
Liberia is a great location to start your road trip from. The province of Guanacaste in which Liberia is located has a lot to offer. The coast of the peninsula is full of great surf spots and beautiful beaches.
In Liberia, you can pick up your rental car from the airport. The rental companies themselves are not located in the terminal. Often there is an employee of the rental companies present who you can speak to.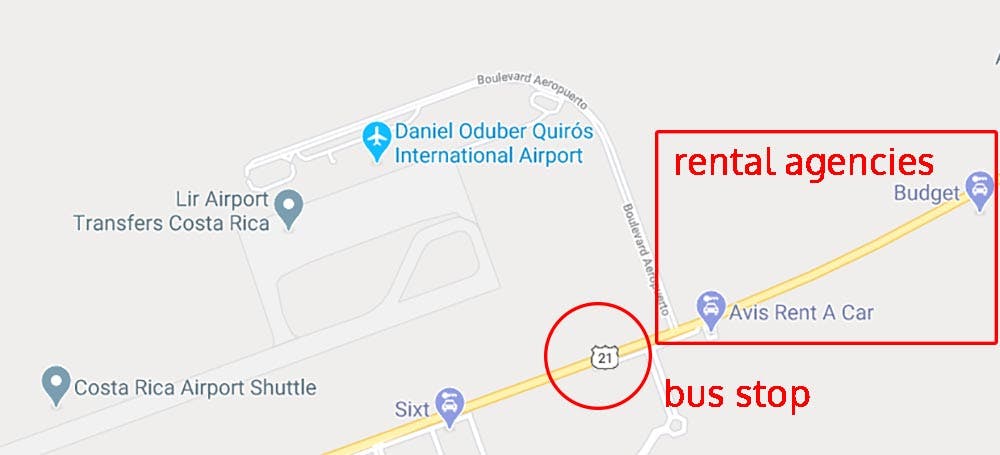 Roads in Costa Rica
Driving through Costa Rica is unforgettable! There are some beautiful, paved thoroughfares. The rest of the roads are adventurous and unpaved.
If you look at a map, you will notice that the distances are quite short. Due to the situation on the roads and the traffic, it is good to consider longer driving times, then you will be in less of a hurry and can enjoy the beautiful views.
There is amazing nature to see and by driving slowly you will avoid accidents.
A brief rundown of what you'll encounter as you drive along the Costa Rican road network:
The main roads are single lane with a speed of around 50 mi (80km)/h. You will not drive this speed often, because there are many slow trucks;
There are many holes in the road surface. Be especially careful of shadows on the road caused by trees, which will make the holes difficult to see;
You often drive dozens of miles on dirt roads through clouds of dust;
Driving in the dark is an adventure and not recommended: road lighting is almost nowhere to be found, as is signage;
On most routes you will have to cross one or more rivers;
Iguanas constantly shoot across the road, some of which are larger than a cat.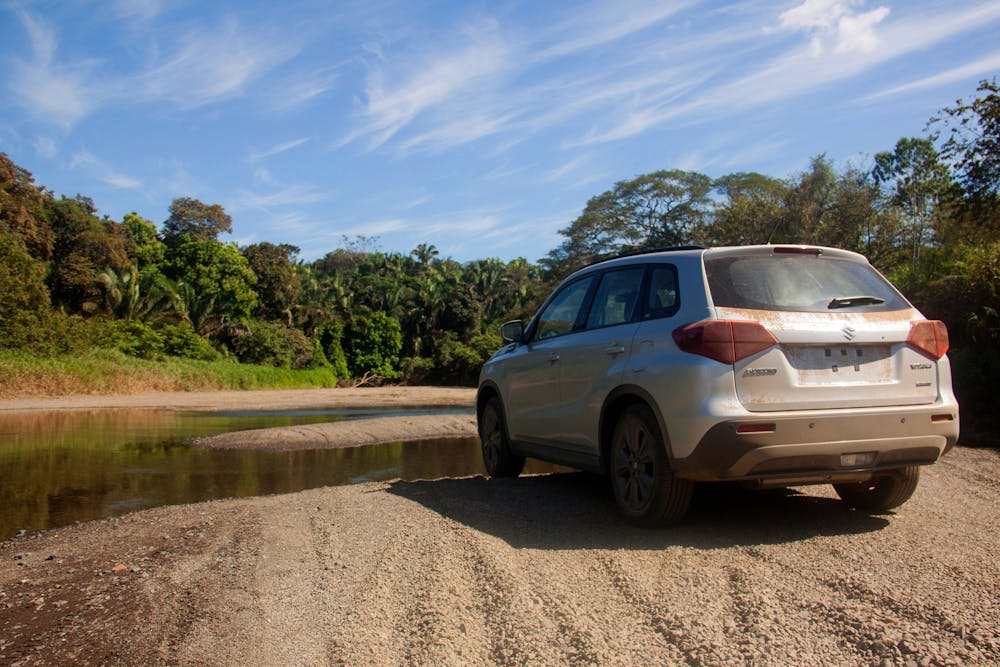 Navigation in Costa Rica
It is difficult to find your way around Costa Rica without navigation. There are a number of options for navigation:
Apps, such as Maps.me or Google Maps;
An old-fashioned map.
Maps.me is a good navigation app for Costa Rica. By downloading the country's map, you can use the app offline.
You can also use Google Maps to download maps for use offline.
Having an old-fashioned map on hand is a good addition.
The above is a sample of all the information on, for example, roads, navigation and costs. On another page of this website we give you more tips on these topics, traffic rules and more.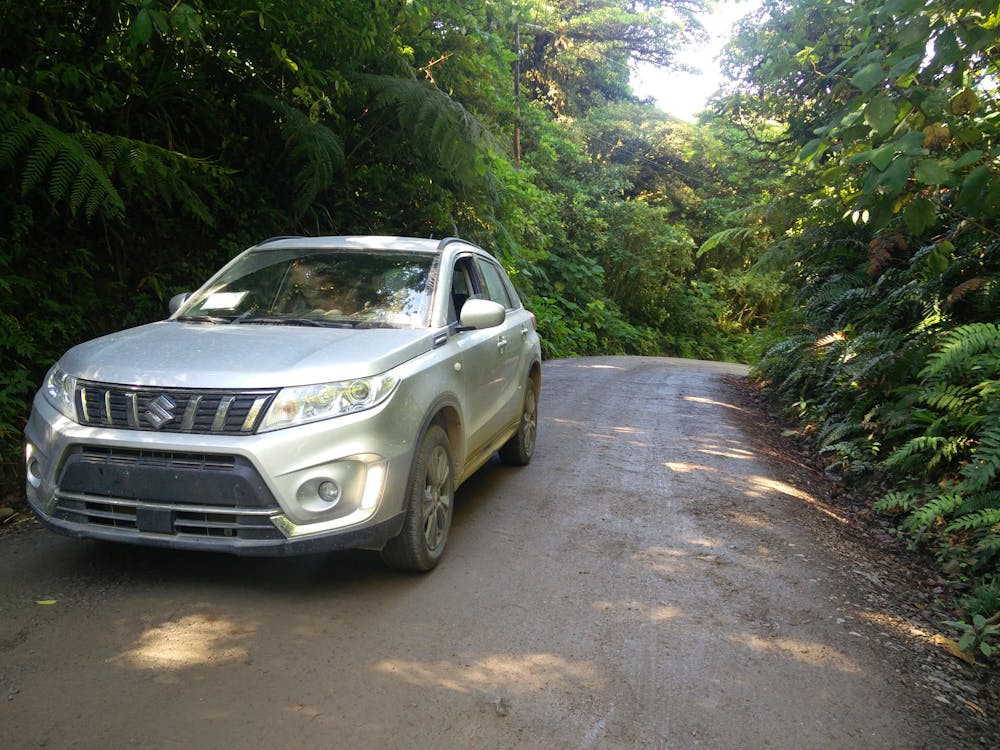 Car rentals and experiences
You want to make the best choice for a rental car in Costa Rica. Roadtripcar.com continuously researches rental car companies and has made this tool. This makes it easier for you to find a good rental car. We select companies in Costa Rica by experience and score, prices, possibilities and conditions.
At some rental companies, we read about bad customer experiences more often than at other companies. Don't be put off at first. People quickly tend to post bad reviews when the problem could easily have been avoided.
Sometimes there are rental companies where there is a particularly large number of negative reviews. We advise not to rent a car from such companies. If you do, we advise you to pay extra attention and follow all the tips.
Our article on the most important tips for worry-free car rental, including a checklist, will help you minimize the chances of an unpleasant experience.