As you think about renting a car for your vacation in Curacao, your thoughts wander. A tropical breakfast overlooking the white sandy beach and azure blue sea. You can see it all in front of you! And then after breakfast, put the dive gear in the back of that cool pickup and drive off to your new dive spot. Where are you going to find that pickup for an affordable price and with a good insurance?
Luckily, you ended up on this website and we've done the research for you. In this article, we tell you about age restrictions and driver's license requirements, insurance, credit card needs, and give you useful tips on car rental in Curaçao.
With the handy overview of rental companies we've compiled, you can make the best choice for you and your trip.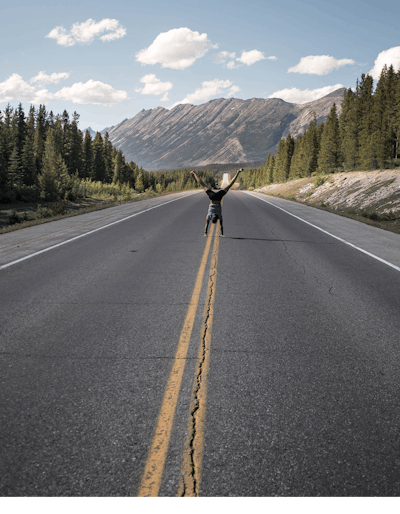 Planning to rent a car in Curaçao?
Use the Road Trip Car online platform to find car rental companies best suited for your trip.
start search
What age do you need to be to rent a car in Curaçao?
You can rent a car in Curacao from the age of 18. However, the choice of models is more limited. Most rental companies rent from the age of 23 years, possibly with a surcharge.
Find your age range below to see what rules apply to you.
You are 18, 19 or 20 years old
At the rental companies we researched, you can only rent from Sunny Cars in Curaçao.
You are 21 or 22 years old
Just like younger drivers, when you are 21 or 22 years old you pay a surcharge to rent a car in Curaçao.
You are between 23 and 70 years old
From the age of 23, you can rent a car from any rental company and you can choose from all models.
You are over 70 years old
At two of the rental companies we researched, we came across a maximum age limit when renting some models.
On another page, we have collected more detailed information for you about the age at which you can rent a car in Curaçao.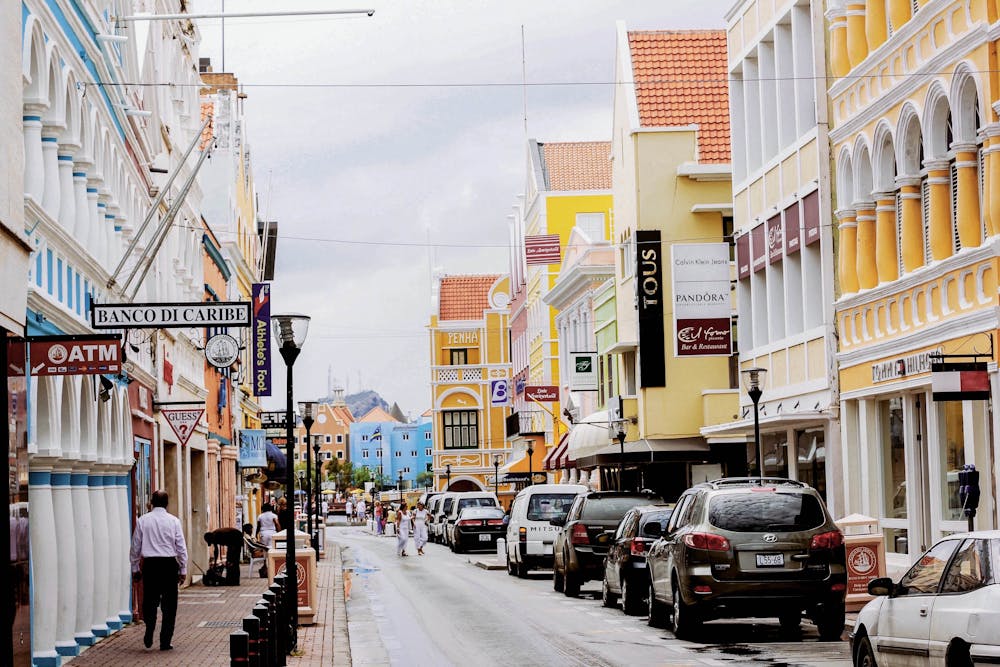 Requirements and credit card
What are the requirements to rent a car in Curaçao?
If you want to rent a car in Curaçao, the following documents are required for all ages:
A valid driver's license for at least 1 year (sometimes 2 years);
A valid passport or identity card;
A credit card.
If you live outside the EU or U.S., you will also need an international driver's license.
Can you rent a car in Curaçao without a credit card?
If you want to rent a car in Curaçao safely and hassle-free without a credit card, we recommend Sunny Cars. The other rental companies we surveyed all require a credit card in the name of the main driver.
A single local rental company will offer the possibility to rent a car without a credit card. A fee, between 613 USD and 1839 USD (€500 and €1500), will be requested as a deposit. Always check the car you bring with you before signing an agreement, considering the age of the car and the condition of the tires.
On another page in our website, we have described in more detail how you can rent a car in Curaçao without a credit card.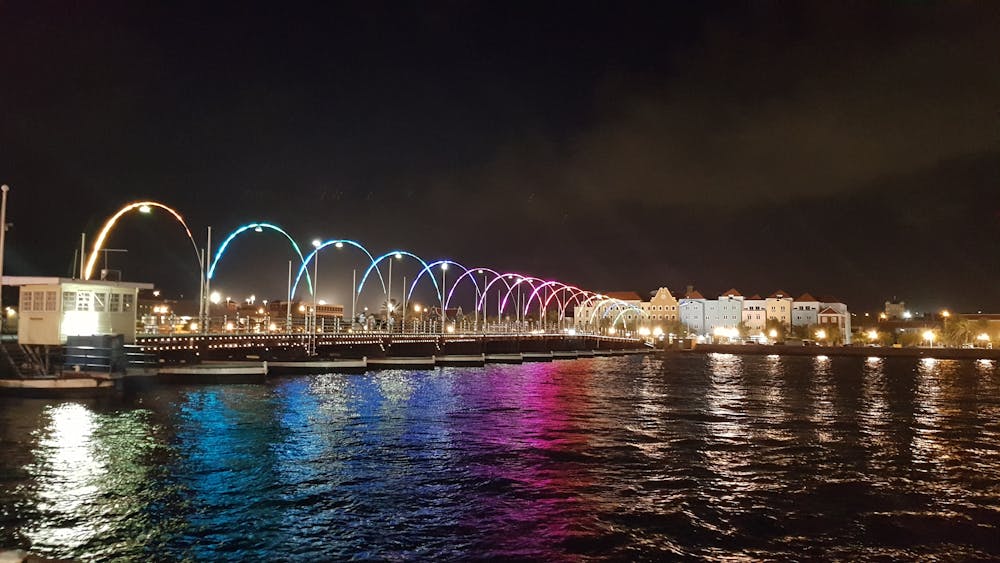 What insurance options are there for my rental car in Curaçao?
For many people, choosing what insurance to purchase is the most difficult part of renting a car. To help you, we explain some of your options below.
CDW (Collision Damage Waiver)
This damage insurance limits the maximum amount for which you are liable in case of damage to the car. The damage to the vehicle may be caused by collisions and/or accidents.
LDW (Loss Damage Waiver)
This is the CDW supplemented with cover for damage caused by theft and/or vandalism.
TI (Third Party Insurance)
This insurance, which is also required in Curaçao, covers civil liability (WA). The coverage of this insurance is not always high enough and, in that case, you can take out additional insurance (ALI).
ALI (Additional Liability Insurance)
If the TI does not provide sufficient coverage, this extra insurance can be used to supplement it.
TP (Theft Protection), also called THW (Theft waiver)
An insurance to cover damage caused by theft.
PAI (Personal Accident Insurance)
This is a passenger insurance that pays out in the event of injury or death.
All-inclusive insurance
This term is used by many rental companies but does not offer the same coverage everywhere. Before you accept this option, please read the terms and conditions carefully to know what is included and what is not. We rent with peace of mind through Sunny Cars because their all-inclusive insurance is clear and transparent.
Above are the most common insurances and designations. With all these insurances, certain damages might be excluded, and fees could apply. Rental companies offer you the possibility to insure yourself for this as well.
Always read the car rental and insurance policy terms and conditions prior to renting the car or purchasing the insurance. In them, you can read what the exclusions are. Keep in mind, there are some insurances that do not compensate for any damage incurred after a traffic violation. All damage not covered in the insurance policy must be paid for by you (the renter). That would put a damper on your vacation.
Would you like to read more about this subject? In this article we have more extensive information about insuring your rental car in Curacao.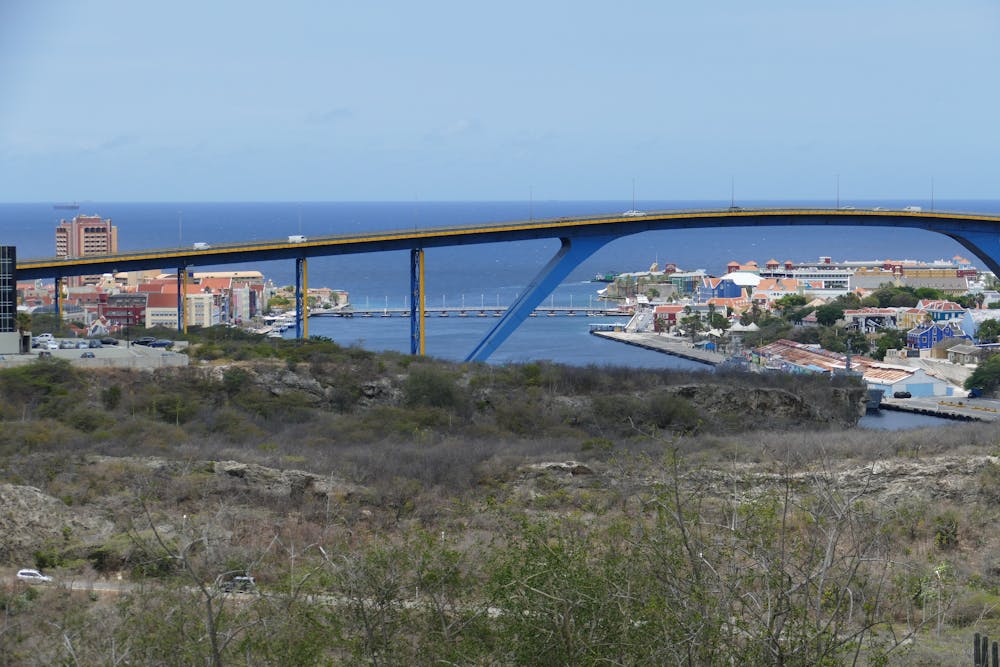 All about driving in Curaçao
Is it safe to rent a car in Curaçao?
If you know what to pay attention to, it's safe to rent a car in Curaçao. What traffic rules must you understand in Curacao. What happens if your rental car is damaged during the rental period? How many cocktails can you enjoy at the beach and still drive afterwards?
Below we give the answers to these questions, among others. And even better, with our experience, we've put together a list of tips to take into account when renting a car.
Traffic rules in Curaçao
In general, the rules are the same as in Europe and the U.S. But it's good to know that there are a few things to pay attention to:
The speed limit for passenger cars
In urban areas 25 mi (40 km) per hour, outside urban areas 37 mi (60 km) per hour and on highways 50 mi (80 km) per hour.
How is priority regulated?
Traffic from the right has no right of way except at equivalent intersections;
At a T-junction, traffic on the through road has priority unless otherwise indicated;
Traffic in traffic circle does not always have priority.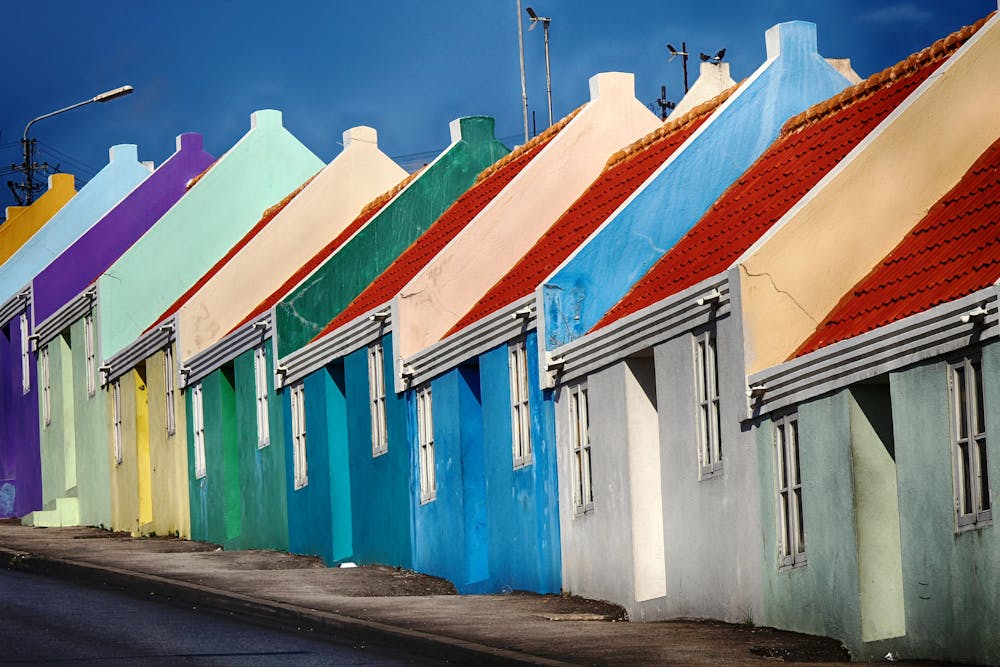 Retrieval
They drive on the right and pass on the left.
The roads in Curaçao
Although the through roads in Curaçao are generally good, you also regularly come across potholes in the road surface.
Traffic safety
Keep in mind that lighting, brake lights, indicators are often not (or cannot be) used by other road users;
In Curaçao there is a maximum alcohol limit of 0.5 grams per liter. On average this amounts to approximately two glasses of beer/wine or whiskey. Driving under the influence of narcotics is completely forbidden;
The use of a cell phone as a driver is not allowed;
Children up to 12 years of age and children smaller than 59' (150 cm) must be transported in an approved booster seat or an approved child seat with a safety belt;
Adapt to the relaxed and mostly quiet driving style here and you'll be used to Curaçao driving in no time.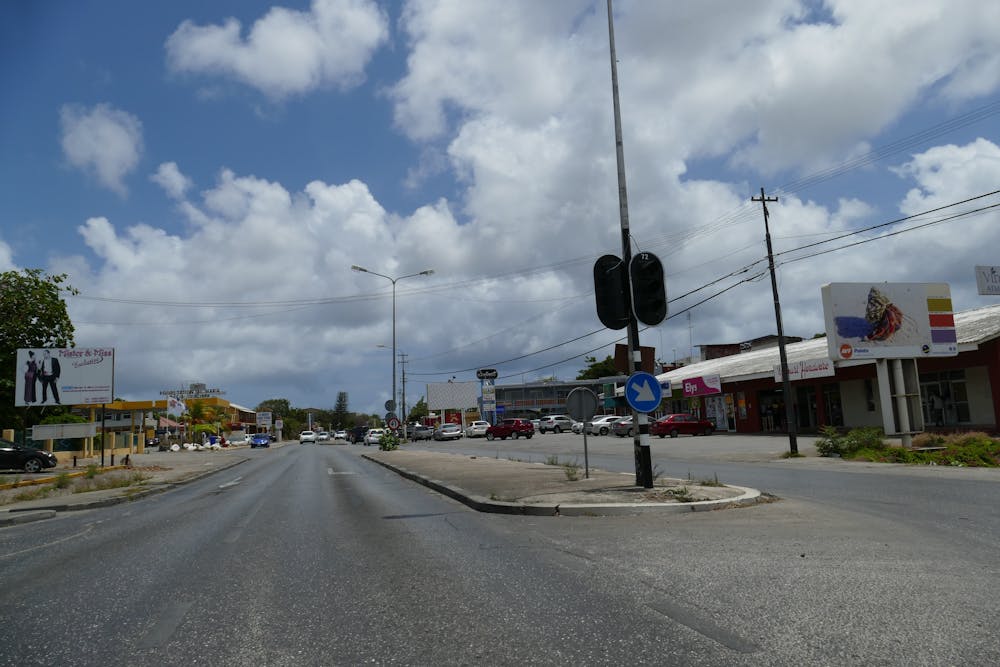 Not all roads are as nicely asphalted as in this picture.
Where can you park?
In and around Willemstad and at much larger beaches and attractions, you have to pay for parking.
In the city you can also park in a covered secure garage.
There are also places where you can park for free.
What to do in case of damage?
You call the rental company and the police. Also do this in case of burglary or theft.
In case of damage, you can also contact ForenSys directly via telephone number 199. With any damage made to the rental car, the rental companies' insurance requires you to call in ForenSys.
Tip
Always take some pictures of the damage and the situation.
Do you need GPS navigation in Curaçao?
We always like to have navigation with us. Maps.me is an app that allows you to download the map of Curaçao on your phone before your vacation. Then you can use the map offline.
What is One-Way renting in Curaçao?
One-way renting, returning the car at a different rental location than where you pick it up, is possible on Curacao on request and free of charge.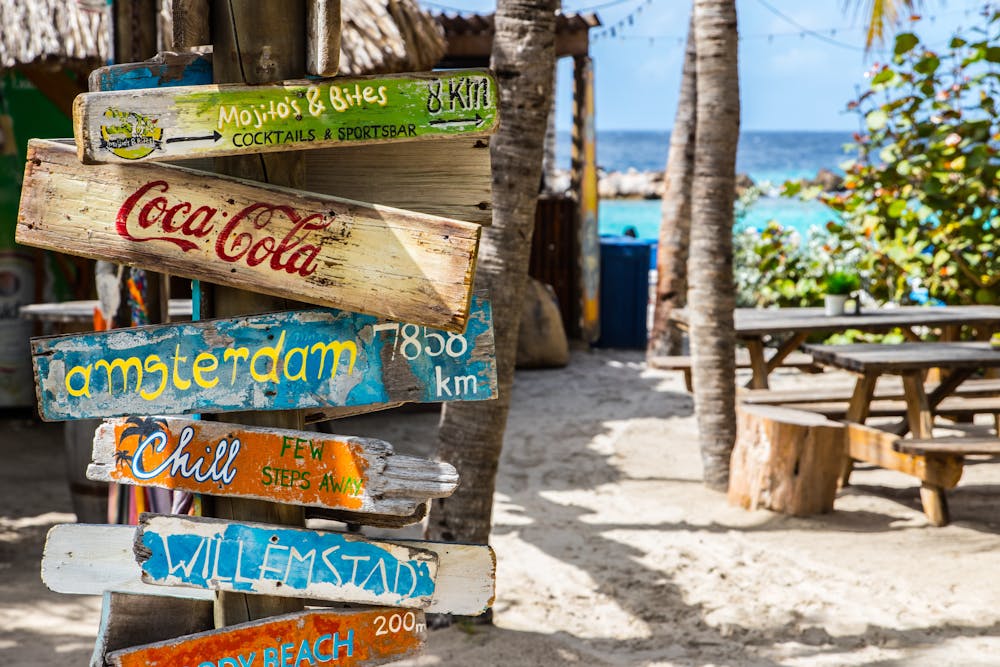 Which car should I rent, where and at what price?
Which car should I rent in Curaçao?
In general, all cars are suitable to rent in Curaçao. But some models offer more comfort than others, depending on the situation.
A van for when you go on vacation with 6 or more people;
Pickups are very popular in Curacao;
A Jeep will provide a more adventurous experience;
With a small car or sedan, you can easily explore the island.
Where to rent a car in Curaçao?
It's best to rent a car online, well before your vacation begins in Curaçao.
Which rental company you choose depends on what kind of car you want to rent and which insurance options you find important.
For your convenience, we have researched various rental companies on points that are important to most people. The results can be found in the roadtripcar tool.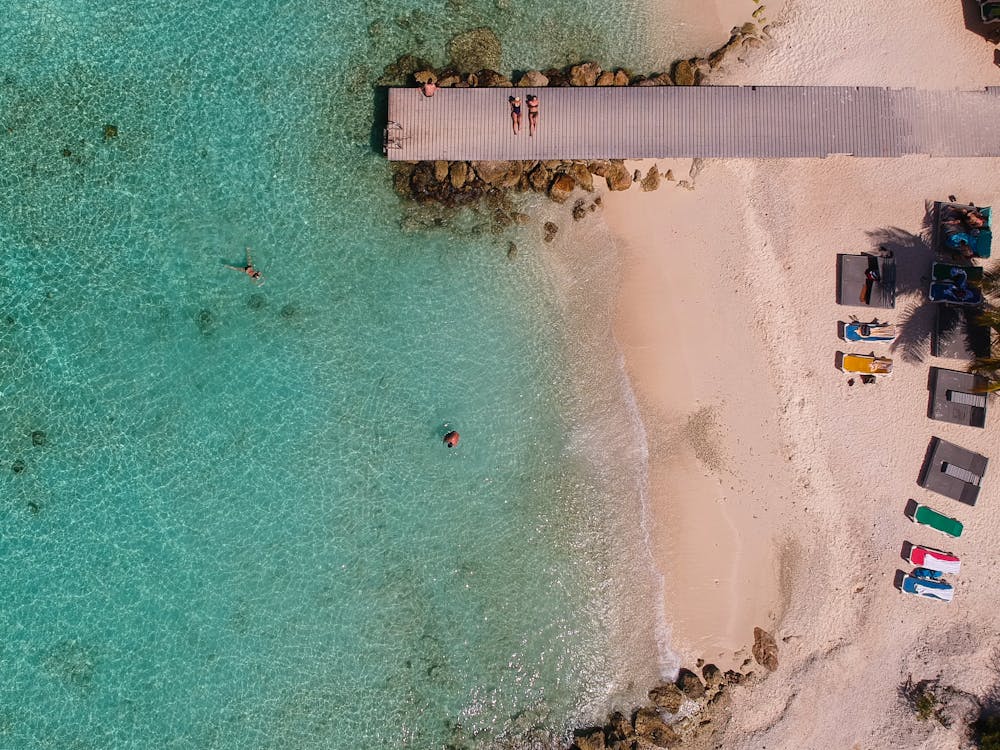 Which lovely beach are you going to discover with your rental car?
Besides the larger well-known rental companies we are researching, there are also local and/or smaller companies where you can rent a car.
Unfortunately, we regularly hear that rental experiences with smaller companies turn out differently than intended.
If you do decide to rent a car from such a company, please read the tips on this page as well as our article about tips for hiring a car with confidence.
What is the price of a rental car in Curaçao?
Roadtripcar.com has conducted a broad investigation into the costs and conditions of rental companies.
In our research we compare rental cars that are fully insured and have an excess of €0. The rental period was 14 days, the rental location HATO-airport (Curaçao International Airport).
Note: the list below is an estimate. Busy periods can influence the price.
The cost for a rental period of 14 days, with the cheapest rental company in Curaçao with all-inclusive insurance:
Pay Attention! The rents below are based on the period before the disruptions in the market. It is not yet possible to say whether the price level will recover in the coming period. Currently the prices are considerably higher than normal. Please take this into account when looking for a rental car.
$43 (€35) per day for a small car, such as a Volkswagen Fox;
$54 (€44) per day for a medium sized car, such as a Kia Rio;
$62 (€50) per day for a jeep/SUV, like a Suzuki Jimny;
$73 (€59) per day for a van, such as a Suzuki minivan;
$79 (€64) per day for a pickup, such as a Nissan Frontier.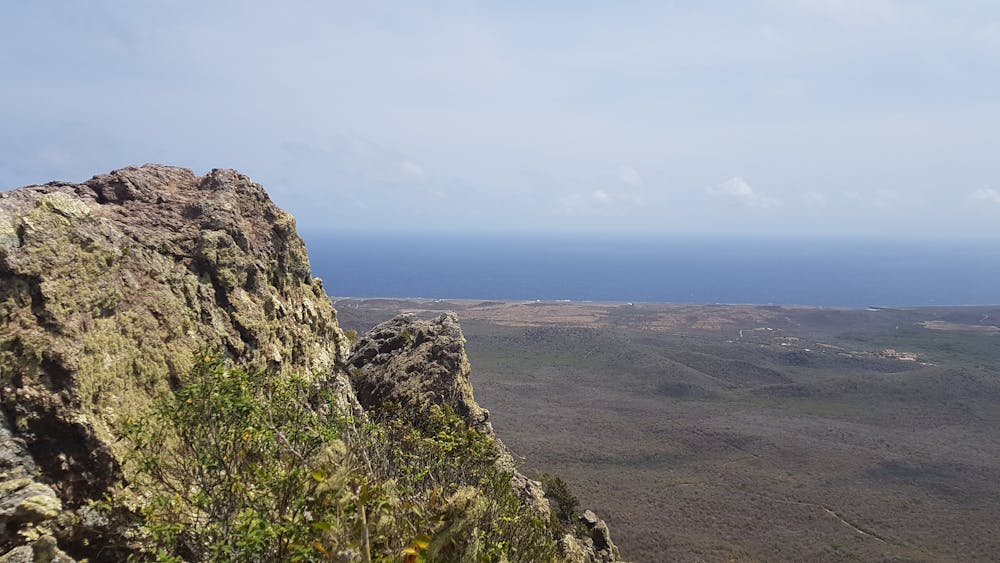 With a rental car, you can drive to amazing vantage points.
Roadtripcar.com has collected tips on renting a car in Curaçao on another page.
Car rentals and experiences
You want to make the best choice for a rental car Curaçao. Roadtripcar.com continuously researches rental companies and has made the RoadTripCar Tool. This makes it easier for you to find a good rental car. We select rental car companies in Curaçao based on experiences and score, prices, possibilities and conditions.
At some rental companies, we read about bad customer experiences more often than at other companies. Don't be put off by this at first. People quickly tend to post bad reviews when the problem could easily have been avoided.
Sometimes there are rental companies where there is a particularly large number of negative reviews. We advise not to rent a car from such companies. If you do, we advise you to pay extra attention and follow all the tips.