An important tip we want to give you is: Adjust your speed and keep more distance from the car in front of you when it rains. Because of the rain, the roads on Curaçao become really slippery. Potholes and bumps in the road surface can become invisible during heavy rainfall. This can cause serious damage to your rental car.
What traffic rules do you have to consider in Curaçao? What happens if your rental car is damaged during the rental period? How many cocktails can you enjoy at that nice little beach, and still safely drive afterwards? If you want to enjoy a carefree vacation, it is important to be aware of this.
Below we give the answers to these questions, among others.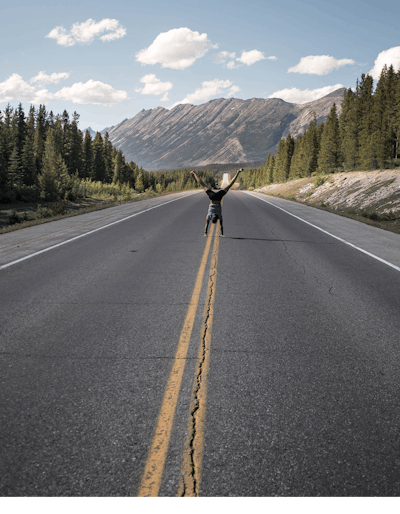 Planning to rent a car in Curaçao?
Use the Road Trip Car online platform to find car rental companies best suited for your trip.
start search
Traffic rules in Curaçao
In general, the rules are the same as in Europe and the U.S. But it's good to know that there are a few things to pay attention to:
The speed limit for passenger cars
In urban areas 25 mi (40 km) per hour, outside urban areas 37 mi (60 km) per hour and on highways 50 mi (80 km) per hour.
How is priority regulated?
Traffic from the right has no right of way except at equivalent intersections;
At a T-junction, traffic on the through road has priority unless otherwise indicated;
Traffic on the traffic circle does not always have priority, pay attention to what is indicated on the signs and on the road surface;
Besides green here, yellow also means that you can drive on. Only at red, you must stop. So always check if someone else is coming before you pull up at the green light.
The (priority) rules are not strictly observed in Curaçao. Adapt to the relaxed driving style (in general) of the islanders, drive quietly and don't expect that you always get priority where you should.
Retrieval
They drive on the right and pass on the left. Passing on the right is also allowed, if there are two or more lanes in each direction, or if the driving directions are separated by, for example, a shoulder.
The roads in Curaçao
Although the through roads in Curaçao are generally good, you also regularly come across potholes in the road surface. The unpaved roads toward the beaches can also be a challenge. Keep this in mind when driving on the road, especially because the bottom of the car, tires and rims. It's good to know that driving on unpaved roads are often not covered by the insurance.
Traffic safety
Keep in mind that lighting, brake lights, indicators are often not (or cannot be) used by other road users. Keeping a good distance from other drivers and driving safely gives you, even in the dark, the chance to react to the road use of others;
Officially, sound signals may only be emitted in the event of an imminent risk of collision. In practice, honking is also used as a thank-you note, for example if someone lets you in;
In Curaçao there is a maximum alcohol limit of 0.5 grams per liter. On average this amounts to approximately two glasses of beer/wine or whiskey. Driving under the influence of narcotics is completely forbidden;
The use of a cell phone as a driver is not allowed;
Children up to 12 years of age and children smaller than 150 cm must be transported on an approved booster seat or an approved child seat with a safety belt;
Enforcing the various traffic rules is not very strict on Curaçao. Adapt to the relaxed and mostly quiet driving style and you'll be used to driving in Curaçao in no time.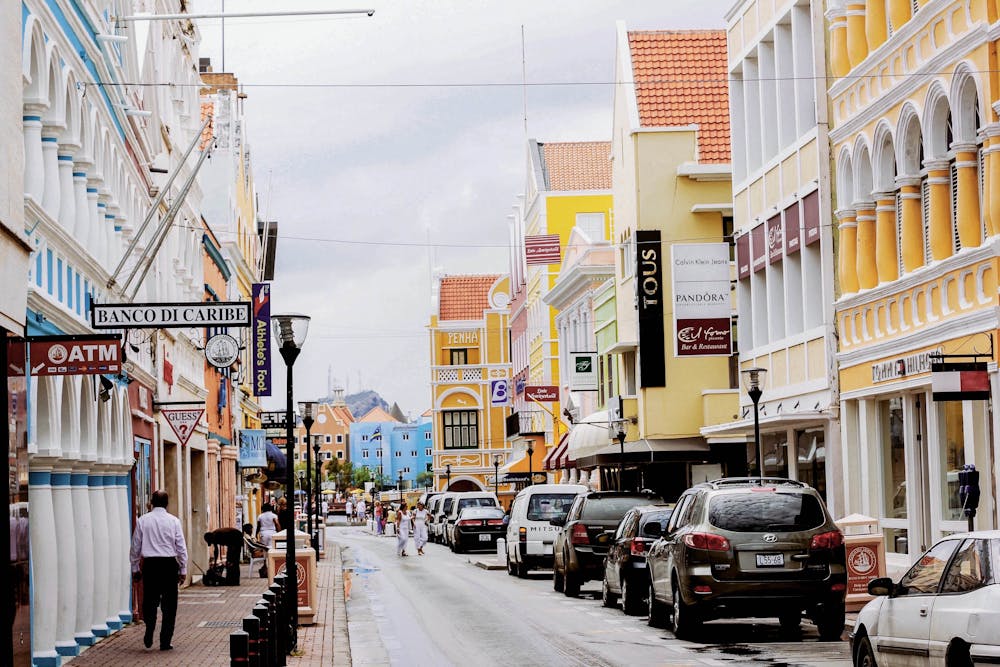 Where can I park?
In and around Willemstad, at much larger beaches and attractions you must pay for parking. You can pay either at a vending machine, or when you park in a garage or lot, at the parking guard at the entrance.
In the city, you can also park in a covered secure garage.
There are also places where you can park for free. Always park on the right side of the road.
Tip
Just like everywhere else in the world, Curaçao also has petty crime. The temptation to break in becomes less if no valuables are visible. Therefore, leave the glove compartment and any armrest open. If you have a trunk that is closed with a tarp, leave it open.
What to do in case of car damage in Curaçao?
It is customary in such situations to contact the rental company and, depending on the seriousness of the situation, also your own travel insurance. In case of burglary or theft, you should call the police.
In Curaçao, there is another step: in case of damage, contact ForenSys directly by phone number 199. With all damage, even a small scratch, the insurance companies of the rental companies require you to call in ForenSys. Without a damage report from ForenSys, your insurance company will not be able to compensate the damage.
Tip
Always take some pictures of the damage and the situation.
Do I need GPS navigation in Curaçao?
We always like to have navigation with us. Maps.me is an app that allows you to download the map of Curaçao on your phone before your vacation. Then you can use the map offline during your vacation.
What is One-Way renting in Curaçao?
One-way renting, returning the car at a different rental location than where you pick it up is possible on Curaçao on request and free of charge. If you want to have the rental car delivered to your hotel, you will have to pay about $25 (€20) for this service. The same goes for pick-up.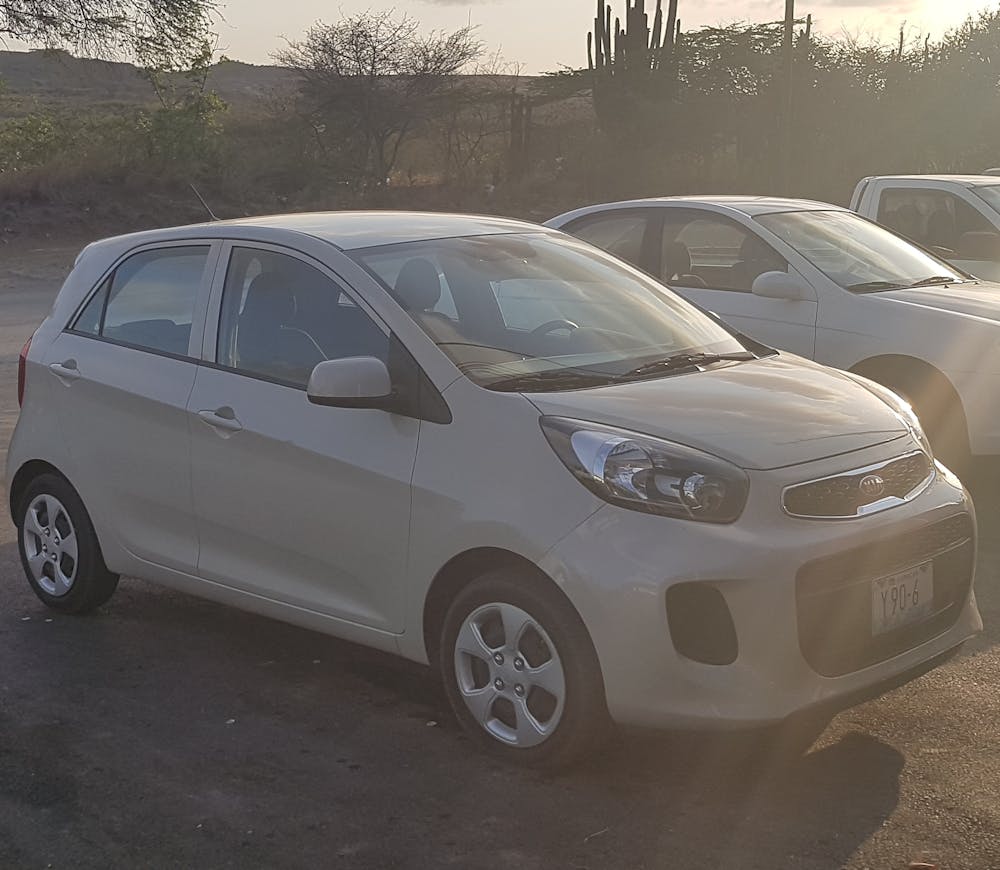 Which car should I rent and where can I rent it?
Which car should I rent in Curaçao?
As we mentioned before, the through roads on Curaçao are generally good but you can encounter potholes in the road surface. The roads to the beaches are usually unpaved and can be a challenge for your car.
In general, all cars are suitable to rent in Curaçao. But some models offer more comfort than others, depending on the situation.
A van for when you go on vacation with 6 or more people;
In Curaçao, pickups are very popular. Pickups are tough cars with which you can easily reach the beaches, and gives you space to transport your diving gear;
If you want to explore the hills in Christoffel Park with your own car as well as the beaches, then a Jeep will give an adventurous experience;
Don't want to go into the Christopher Park on your own? And the beaches outside your hotel don't appeal to you? Then you can explore the island with a small or normal car.
Usually cars are booked on 'class' (or size). This means that you can book a certain model, but it is possible that you get another model from the same class.
Where to rent a car in Curaçao?
It's best to rent a car online, well in advance of your vacation on Curaçao. The number of rental cars is not unlimited, as it is an island. In busy periods, all cars can be rented. That would be horrible, if you were planning on renting a car on the spot after you landed.
Which rental company you choose depends on what kind of car you want to rent and which insurances you find important.
For your convenience, we have researched various rental companies on points that are important to most people. You can view an overview of them on this page.
In addition to the larger well-known rental companies that we are researching, there are also local smaller companies where you can rent a car, especially if you want to rent a car without a credit card.
Unfortunately, we regularly hear that rental agreements like this can turnout differently than intended. If you decide to rent a car from such a company, please read next to the tips on this page also our article about tips for carefree car rental. If you read and follow the tips in our articles carefully, the chance that you will get a bad experience with renting a car is much smaller.
Roadtripcar.com has also made a handy checklist, so you can be sure to check the most important points when you pick up the rental car. You can download it for free from the same article!
What is the price of a rental car in Curaçao?
Preferably you want to rent a car in Curaçao for a low price. Of course, the cost of a rental car depends on your wishes. Cheap car rental is nice, but often there are hidden costs, so you'll end up losing more money.
Roadtripcar.com has conducted a broad investigation into the costs and conditions of rental companies.
In our research, we compare rental cars that are fully insured and have an excess of €0. The rental period was 14 days and the rental location was HATO-airport. All rental companies offer a free shuttle from the airport to the rental location and vice versa.
Note: the list below is an estimate. Busy periods can influence the price.
The cost, for a rental period of 14 day in Curaçao, with the cheapest rental company and with all-inclusive insurance:
Pay Attention! The rents below are based on the period before the disruptions in the market. It is not yet possible to say whether the price level will recover in the coming period. Currently the prices are considerably higher than normal. Please take this into account when looking for a rental car.
35 USD (€35) per day for a small car, such as a Volkswagen Fox;
44 USD (€44) per day for a medium sized car, such as a Kia Rio;
61 USD (€50) per day for a jeep (SUV), like a Suzuki Jimny;
72 USD (€59) per day for a van/van, such as a Suzuki minivan;
78 USD (€64) per day for a pickup, such as a Nissan Frontier.
With a shorter rental period, the price per day will be higher than with a longer rental period. If you come across an offer that is very different from the above-mentioned prices, please be wary.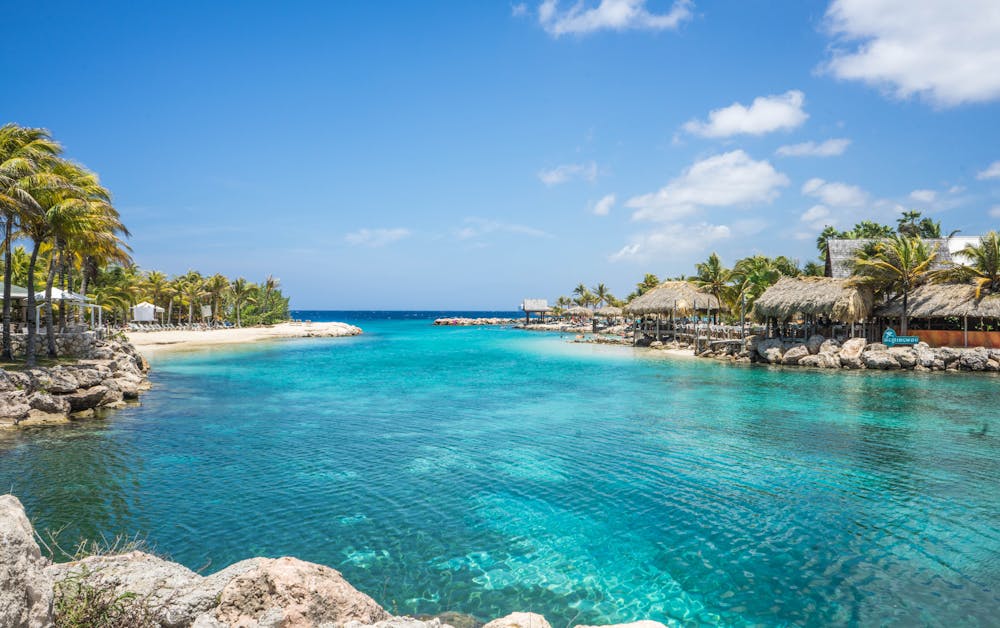 Which rental companies can I contact?
Now that you're aware of our tips, you'll probably want to tour Curaçao with the perfect rental car as soon as possible. At Roadtripcar.com we have made this a lot easier for you.
With our online tool you can compile an overview of rental companies where you can rent the car you want and need. Within minutes, you will have found the ideal rental company.