When you are well prepared, driving in Iceland is a wonderful adventure. We have collected the most important traffic rules and tips for you and wrote this article about it.
Whether you go on the road in your own car or in a rental car, after reading this article you can have confidence while driving in Iceland.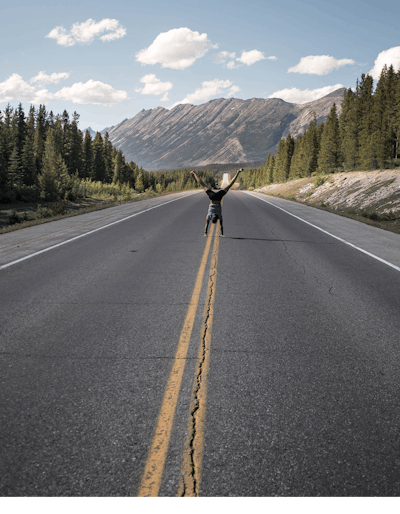 Planning to rent a car in Iceland?
Use the Road Trip Car online platform to find car rental companies best suited for your trip.
start search
Traffic rules for driving in Iceland
The traffic rules in Iceland are not very different from those in Europe and the U.S., but the driving conditions are a different story! If you are well prepared, you can drive safely in Iceland with a rental car. First, take a look at the important traffic rules below, as well some extra tips on how to be prepared for the Icelandic roads.
The speed limit for passenger cars
In built-up areas there is usually a speed limit of 50 km (30 mi) per hour;
In residential areas 30 km (18 mi) per hour;
Outside the built-up area on paved roads 90 km (56 mi) per hour;
Outside the built-up area on gravel roads 80 km (50 mi) per hour.
Lighting
In Iceland, it is mandatory to have the car's low beam headlights on day and night.
How is priority regulated?
Traffic from the right has priority at intersections, unless otherwise indicated;
Buses always have priority. Just like school buses;
Bridges are often one-lane roads. There, the car closest to the bridge has priority;
If a traffic circle has two or more lanes, please note that the car that drives on the inner lane and wants to turn off has priority over the car that drives on the outer lane;
In practice, not every motorist is aware of the priority rules, or does not adhere to them. Use your best judgement and adjust your speed and behavior to prevent collisions.
Retrieval
They drive on the right and pass on the left.
Off-road driving
It is forbidden to drive off-road in Iceland. This prohibition is there to protect the vulnerable nature. If you get caught, you will be significantly fined.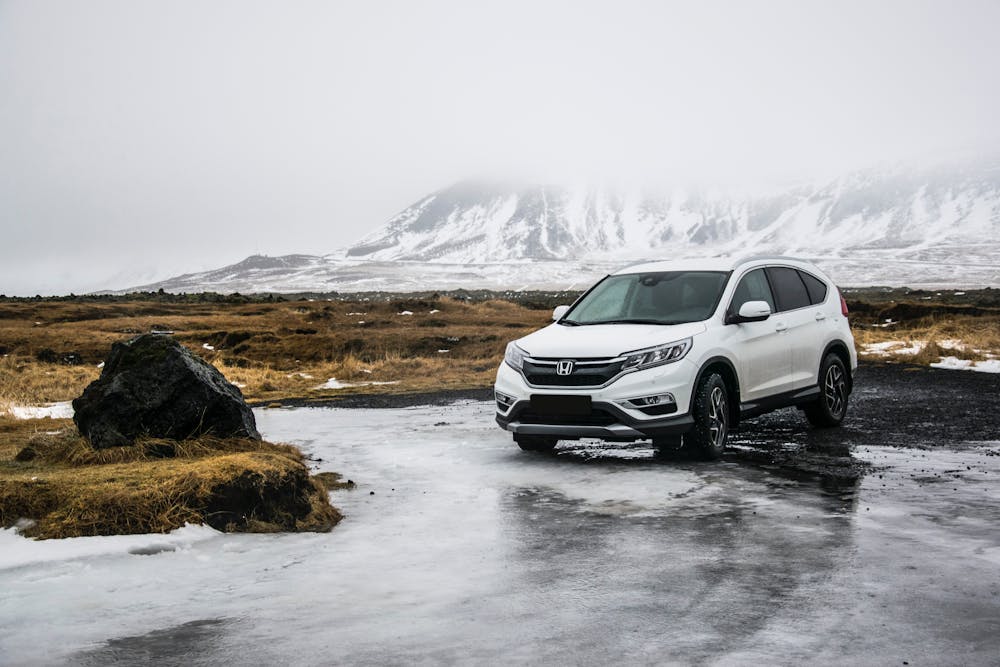 4-wheel drive in Iceland
Parking
It is forbidden to park against the direction of road;
Do not park when the yellow line is interrupted;
Parking within 15 meters (49 feet) of a bus stop or a fire hydrant is not allowed;
It is also not allowed to park within 5 meters (16 feet) of an intersection.
Children in the car
Children under the age of 3 may only travel in an approved and suitable child seat;
Children up to a length of 1.50 meters must also be transported in an approved and suitable child seat or in a booster seat;
If children smaller than 1.50 meters travel in the front seat, the airbag of that seat must be deactivated.
Winter tires
The use of winter tires is mandatory during winter (approximately November 1 to April 15). Depending on the weather conditions, the exact period can vary each year.
In extreme winter conditions, studded tires are also allowed in the above-mentioned period.
If the roads are covered with snow, snow chains are also used.
Tip
When renting a car during the winter, check if the car is equipped with winter or studded tires.
On this website you can find out from when the exact winter period applies in any given year: http://www.road.is/
Seatbelts
It is mandatory for every passenger to use a safety belt in Iceland.
Alcohol and recreational drugs in traffic
In 2019, Iceland lowered the maximum permitted blood alcohol level to 0.2 grams per liter. This means that after drinking a glass of beer you could potentially exceed the permitted amount. For drivers there is a total ban on recreational drug use.
The fines for violating these laws are high. In addition to a hefty fine, you will also receive a two-month driving disqualification.
Mobile Phone
Holding a cell phone is prohibited in Iceland. Handsfree calling is allowed.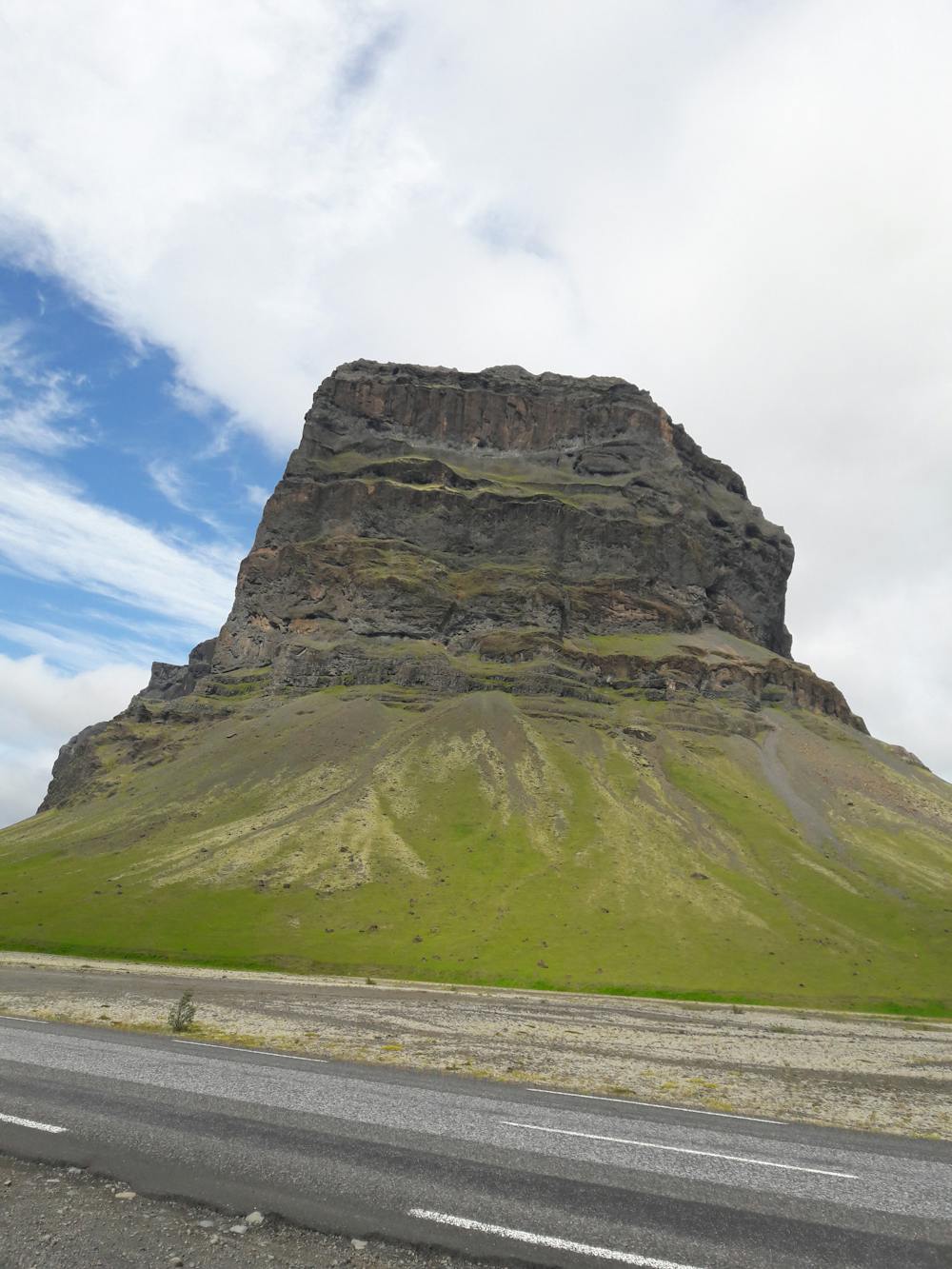 Tips for driving in Iceland
Driving in Iceland is safe and easy. The roads are not crowded, except in and around Reykjavik, and Icelanders are relaxed drivers. Besides the above-mentioned traffic rules, we like to share some more tips. This way, we hope to help you have even more fun in Iceland.
Sheep and cows
Driving along Icelandic roads, you will also encounter grazing sheep and sometimes cows. Always keep in mind that the animals may suddenly cross the road. If you hit an animal, the owner may claim compensation from you.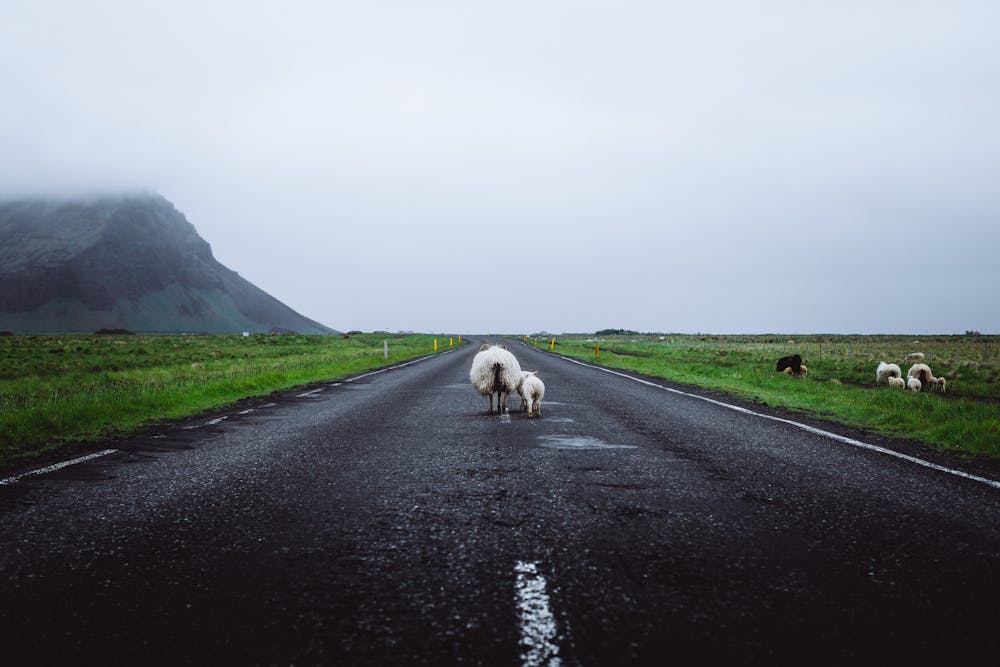 Parking along the road
If you want to stop somewhere along the road to enjoy the view and take pictures? Then only park at the designated spots along the road. The roads are very narrow and stationary cars often cause an accident. Moreover, Iceland's nature is very fragile and therefore parking outside the designated areas is prohibited and subject to fines.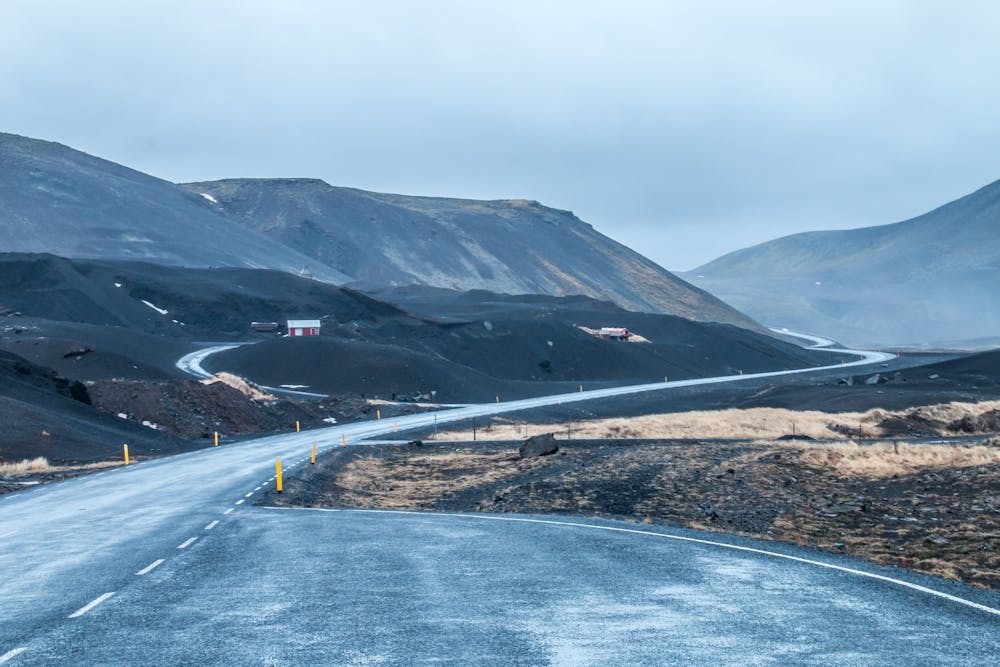 Returning the car
When picking up the car, inquire about the condition in which the car has to be returned. Some rental companies charge a large amount of money if you return the car very dirty.
Tunnels in Iceland
If you're on the road with your rental car, you'll regularly encounter tunnels. They are often built to shorten distances and to avoid roads that are closed due to winter conditions.
Short tunnels are usually one-lane roads. In case of oncoming traffic, you will have to wait until the road is clear. Longer tunnels have passing lanes every 300 meters (984 feet). Iceland has long tunnels, sometimes up to 9 kilometers (5.5 mi).
Toll roads in Iceland
In Iceland, there are no toll roads, but there is a toll tunnel. The Vadlaheidi tunnel (Vaðlaheiðargöng) is 7.5 kilometers long and is located in northeast Iceland, near the city of Akureyri. For a passenger car the toll is about €11 (13.50 USD) each way.
Is this tunnel on your route? Then register with your rental car on this website. The toll will automatically be charged on your map when you drive through the tunnel. If you don't use this option and don't pay within three hours after passing through the tunnel, your rental company may charge you a fine.
Driving inland and on mountain roads
Inland and in the mountains, the roads are usually referred to as F-roads. Some roads only have a number as an indication. These roads are closed to traffic most of the year and sometimes open in July and August.
You can buy a good map on the spot before you go inland. A good alternative is to download the map of Iceland in the app Maps.me. This way, you will always have a map at hand offline.
It is only allowed to drive a 4x4 (4WD) on these roads. The inland roads are very remote. Therefore, it is recommended to drive in a convoy of at least two cars. It is also wise confirm the route with someone at your accommodations.
Although you can drive a 4x4 on these roads, the car is not insured if you drive through water. If you want to cross through water, always check the water level.
Tip
You can follow the conditions of the roads during your trip on this website: https://www.road.is/
In another article we have collected important information for you about insuring your rental car in Iceland.
Road signs in Iceland
The road signs in Iceland are not that different from the signs in your home country. You'll also come across rectangular yellow signs. These are special Icelandic warning signs. The images on those signs speak for themselves.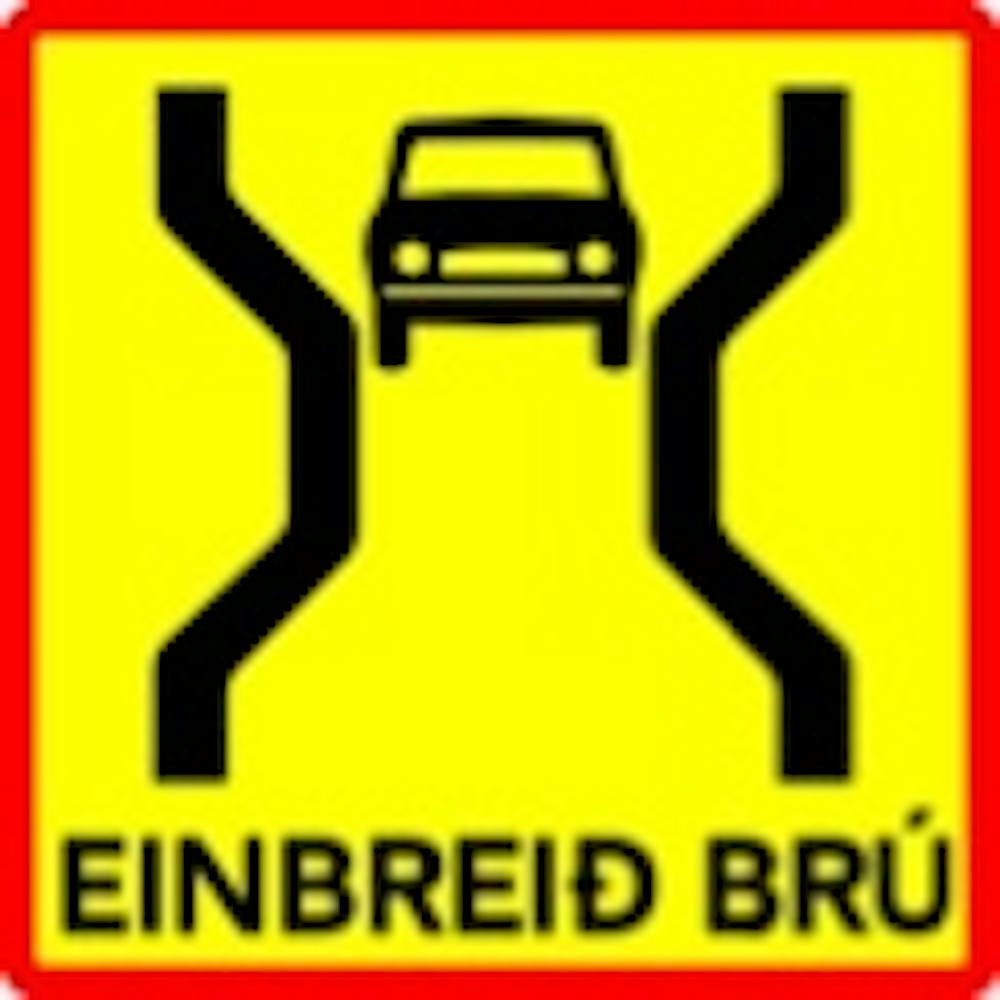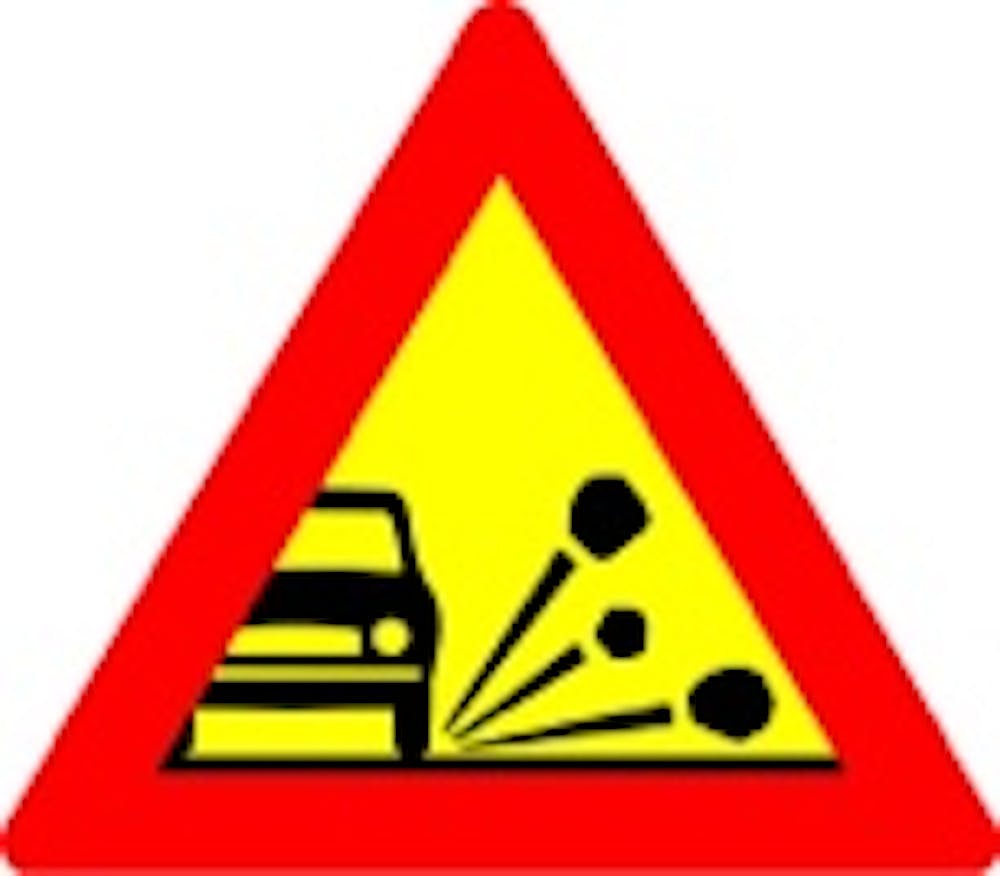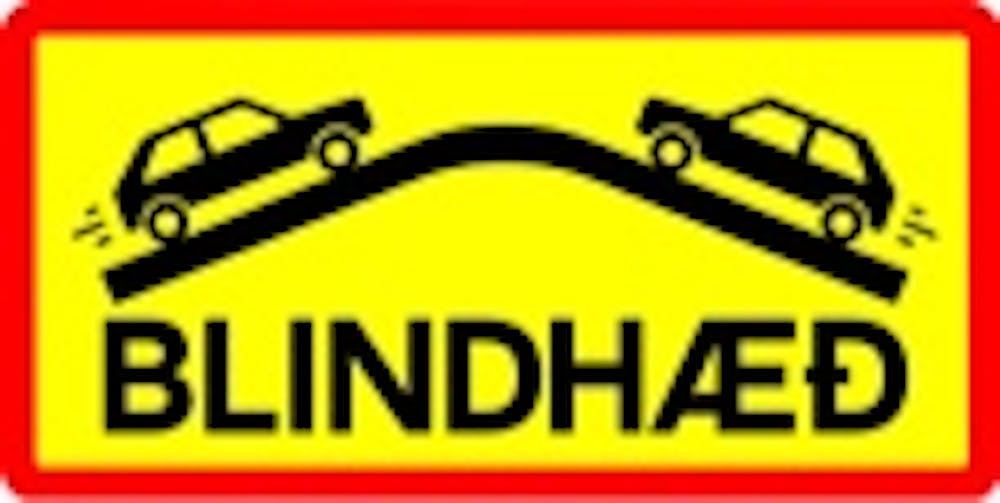 Planning your route through Iceland
When planning your route through Iceland, it is good to keep in mind that the average speed is much lower than the maximum allowed speed. You will regularly have to reduce your speed or stop due to road conditions: such as bridges and tunnels with single lanes, asphalt roads that suddenly turn into gravel, narrow roads with verges made of gravel and changing weather conditions.
Tip
For information on weather conditions while on the road, Iceland offers this website: https://safetravel.is/
Refueling in Iceland
Along the Ring Road no.1 and other main roads there are petrol (gas) stations every 40 to 80 km (25 to 30 mi). Inland and in the mountainous areas you will find far fewer gas stations. There it is advisable to refuel at every gas station you come across.
There is some difference between the opening hours of gas stations in Reykjavik and the surrounding area and the rest of Iceland. In Reykjavik they are open from 7:30am to 8pm, on Sundays from 9am and in winter from 10am. In the rest of Iceland they are usually open from 07:00am to 10:00 or 11:30pm.
At manned gas stations you can pay not only with a credit card but also with cash.
Most gas stations are unmanned and here you can only pay with a credit card with pincode (Mastercard and Visa). At many of these vending machines you first enter how much money you want to refuel. If you fill up for less, only the lower amount will be debited from your account.
Never choose the option 'full fuel', because a large amount will be reserved on your credit card. If you fill up for less than the reserved amount, you will get it back after a few days.
From our experience, we have put together a list of tips to take into account when renting a car, in addition to the tips above. Roadtripcar.com has a handy checklist, so you can be sure to check the most important points when you pick up the rental car. You can download it for free from the same article!