Renting a car in Iceland becomes so much easier after reading about our tips and experiences. What specific traffic rules should you consider in Iceland? How many glasses of Brennivín are can you drink and still drive afterwards? If you want to enjoy a carefree vacation, it is important to be aware of this.
Below we give the answers to these questions, among others. We like to share our tips and experiences with renting a car in Iceland with you. This way you will be well prepared for the road with the rental car that suits you best.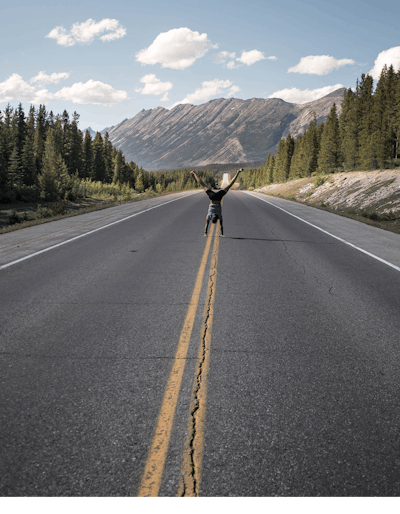 Planning to rent a car in Iceland?
Use the Road Trip Car online platform to find car rental companies best suited for your trip.
start search
Do I need a 4x4 in Iceland?
The need for a 4x4 depends on many factors. Below we explain the most important ones:
You stay on the Ring Road no.1: all year round in principle any car is suitable;
You are an adventurer and would like to drive inland and mountain roads: 4x4 is mandatory;
You're looking for more comfort because of the gravel roads on the Ring Road: it's better to choose a bigger car or a suv;
With four or more people and as many suitcases, exploring Iceland: a van/mpv will give you a lot of travelling pleasure.
How are the roads in Iceland?
For most motorists, driving on the roads in Iceland is a totally new experience. The asphalt road on the Ring Road can quickly give way to gravel roads, and the weather can change unexpectedly. As a result, driving conditions change very suddenly.
Iceland has made some informative videos for visitors. Below you can see one of the videos that are good to watch in preparation for your Iceland adventure.
Tip
In winter, when there is a lot of snowfall, parts of the Ring Road may be closed off.
Traffic information in Iceland
Because of the rapidly changing driving conditions in Iceland, it is good to stay informed about the situation on the roads during your trip. On these websites the information is up to date: https://www.road.is/ and https://safetravel.is/.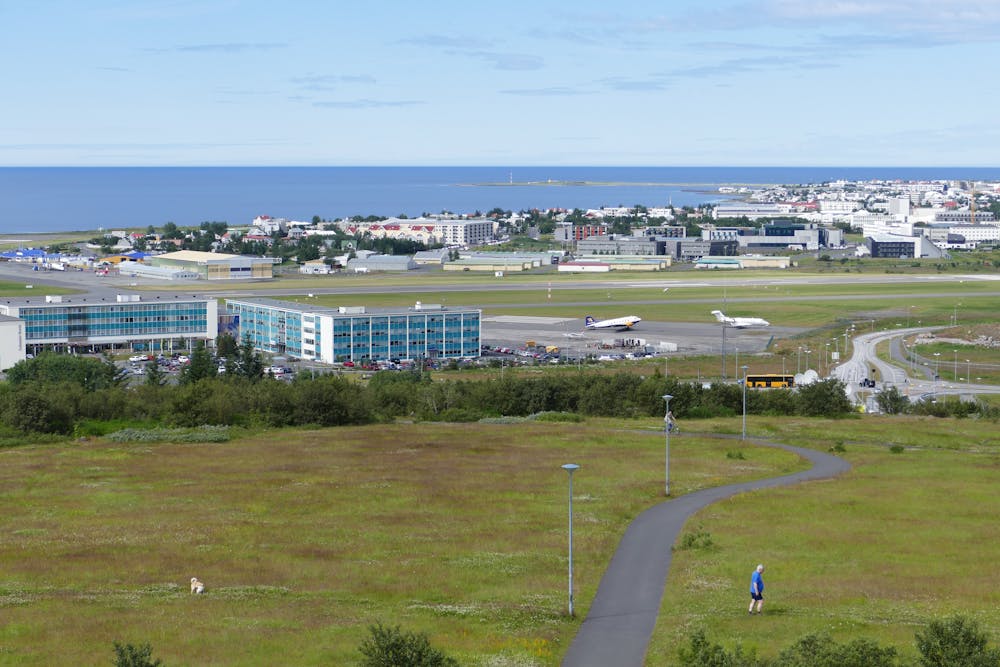 Do I need GPS navigation in Iceland?
You don't need GPS navigation in Iceland. The roads are marked well with signs. Are you going inland or do you feel more comfortable with navigation? Then download the map of Iceland via the app maps.me on your phone. You can also use it offline.
Stay on the Ring Road or visit inland Iceland?
As we wrote earlier, the chances of access to the roads inland and the mountains in Iceland are usually in July and August. Moreover, only 4x4 cars are allowed on these roads. If you are an experienced driver, a trip through this area can be a nice challenge.
Take a look at our practical overview of rental companies to find out where you can rent a 4x4.
To enjoy all the beauty that Iceland has to offer, you really don't have to go inland! Practically all sights are located at the Ring Road no.1. However, sometimes you have to drive on a gravel road to reach them.
Ring Road no. 1
This road (in Icelandic: Þjóðvegur 1 or Hringvegur) that runs around the entire island is about 830 mi (1335 km) long. The road is narrow, some parts are not paved and there are bridges and tunnels with one-way traffic. As a result, the average speed is lower than the allowed 56 mi (90 km) per hour on the Ring Road. Along the way, you can enjoy enchanting views and sightseeing. Count on about 10 days if you want to drive down the entire ring road.
Tip:
During the winter months, approximately from mid-November to mid-April, parts of the Ring Road may be closed to traffic due to winter conditions.
Most attractions in Iceland are located on the Ring Road. Sometimes you have to drive a little bit inland to reach them. This is allowed for normal cars. In the information from the rental company, the road numbers are indicated where you are not allowed to go. Check those numbers with the route you are going to drive.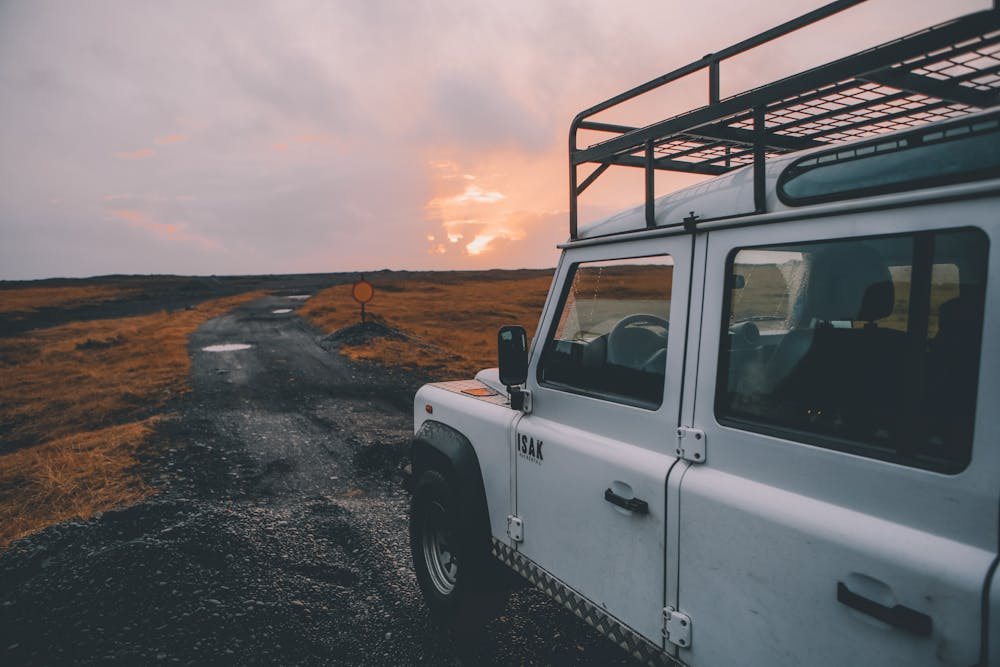 A 4x4 car is not necessary when travelling the Ring Road.
The Golden Circle
Don't have ten days, or time left after driving the Ring Road? Then we recommend the Golden Circle. In Icelandic: Gullni hringurinn. This route, from Reykjavik, is about 186 mi (300 kilometers) long and is called by many the most beautiful route in Iceland.
The Golden Circle can be driven with a normal car, even in winter. It can be done within one day, but we opted for two days. That gave just a little more space to enjoy all the beauty on the way.
The F-roads
The roads inland and in the mountains are a different story. Most of these roads are indicated by a number and the letter F in front of it. Most of the year, they are closed except, if you are lucky, in July and August.
For experienced and adventurous drivers, these are challenging roads to drive. Only 4x4 cars are allowed on these roads. In the terms and conditions of the company where you rent the 4x4, it is described whether driving that car on the F-roads is covered by the insurance.
Where do I rent a car in Iceland?
It is best to rent a car online, well before your vacation in Iceland. The number of rental cars is not unlimited. In busy periods, the car of your choice may not be available.
Which rental company you choose depends on what kind of car you want to rent and which insurance options are important to you.
For your convenience, we have researched various rental companies on points that are important to most people. In this handy overview, you will find the results of our research on various rental companies.
If you decide to rent at a local rental company, which we have not (yet) involved in our research, then read the tips for carefree car rental. If you read and follow the tips in our articles carefully, the chance that you will have a bad experience with renting a car is much smaller.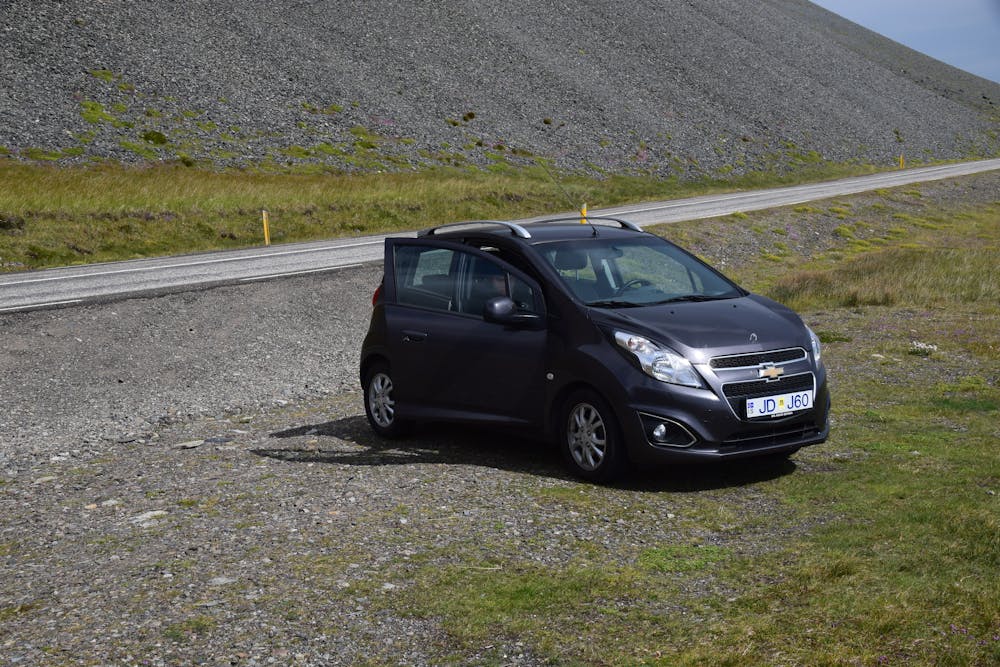 What is the price of a rental car in Iceland?
The cost of a rental car in Iceland with a rental period of 10 days with the cheapest rental company with all-risk insurance:
Pay Attention! The rents below are based on the period before the disruptions in the market. It is not yet possible to say whether the price level will recover in the coming period. Currently the prices are considerably higher than normal. Please take this into account when looking for a rental car.
$69 (€56) per day for a small car, such as a Kia Picanto;
$86 (€70) per day for a medium sized car, such as a Hyundai i30;
$99 (€80) per day for a large car, such as a Hyundai i30 estate;
$127 (€103) per day for a 4x4, like a Suzuki Jimny;
$235 (€190) per day for a van/mpv, such as a Ford Galaxy.
If you want to rent a car in Iceland, you can do so at a cheap price. Of course, the cost of a rental car depends on what you want. Renting a cheap car in Iceland is nice, but often there are hidden costs so you will lose more money in the end.
Roadtripcar.com has conducted a broad investigation into the costs and conditions of rental companies.
In our research, we compare rental cars that are all-risk insured. Most rental companies in Iceland do not have full all-risk insurance. This is important to know, but is not clearly communicated!
The rental period was 10 days in the summer, the rental location Reykjavik-Keflavik Airport. The companies have an office at the airport or offer a free shuttle from the airport to the rental location and vice versa.
Note: the above list is an estimate. Busier periods influence the price. Renting a car in Iceland during the winter period can sometimes be half of the above-mentioned prices. With a shorter rental period, the price per day will be higher than with a longer rental period. If you come across an offer that is very different from the above-mentioned prices, please be wary.
Which rental companies can I contact?
Now that you are aware of our tips, you'll probably to tour Iceland with the perfect rental car as soon as possible. At Roadtripcar.com we have made this a lot easier for you.
With our online tool you can compile an overview of rental companies where you can rent the car you want and need. Within minutes, you will have found the ideal rental company.