It is a wonderful adventure to rent a car and explore Mexico. Wherever in Mexico your trip takes you, you want to be able to use the rental car without any worries. But, which rental company should you choose, and what should you pay for that car? We'll tell you about that later in this blog. We at Road Trip Car have rented cars all over Mexico.
We want to share our experiences with you and tell you about car insurance, age restrictions, and more. Via our easy-to-use tool, you can easily find the right rental car for you.
Mexico is bigger than Western Europe, almost three times the size of the state of Texas: it is a gigantic country. A rental car is therefore not an unnecessary luxury during a vacation or road trip. People usually travel between states by bus or plane. Renting a car in Mexico is handy if you want to visit the beautiful spots and tourist attractions.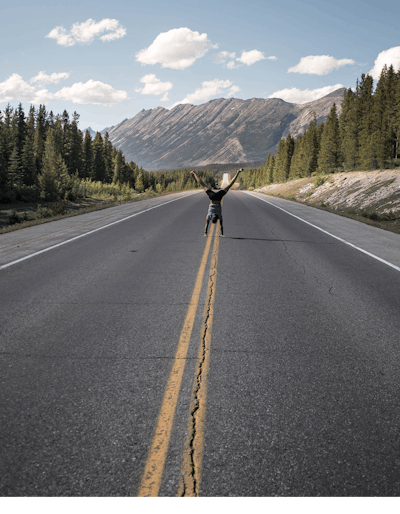 Planning to rent a car in Mexico?
Use the Road Trip Car online platform to find car rental companies best suited for your trip.
start search
Insurance tips for a rental car
You don't want any nasty surprises when renting a car in Mexico. So it's handy to insure your rental car. To make things more straightforward, we explain several options below: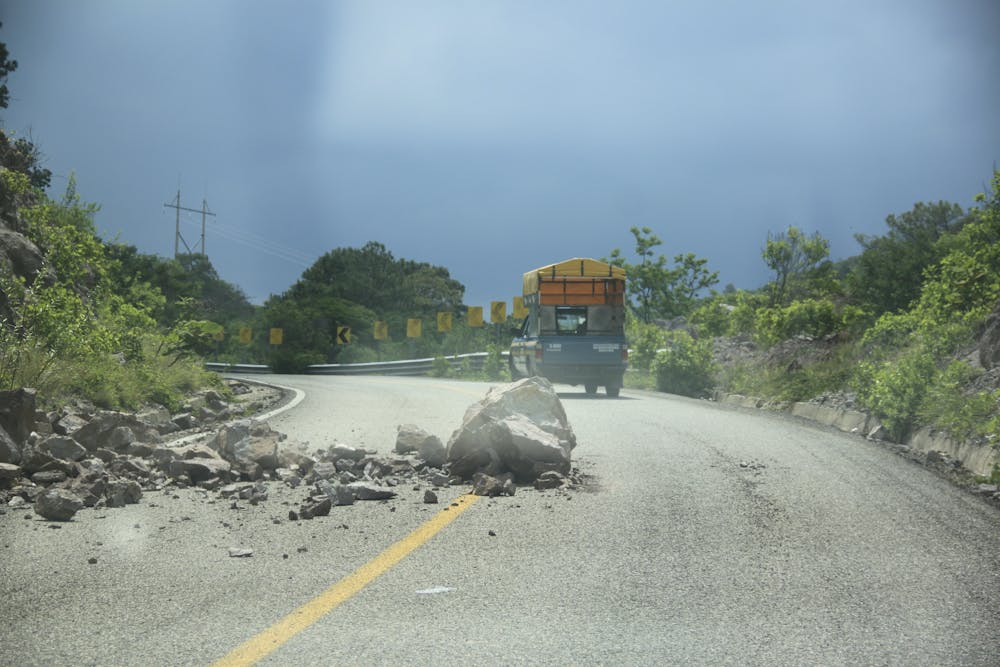 It is wise to insure your rental car properly in Mexico.
All-risk insurance for your rental car
The best insurance for a rental car insurance is when you have no risk.
There are rental companies that offer all-risk car rental. You book the rental car with all-risk insurance through the intermediary, and you can pick up the car at one of the well-known rental companies.
Check our overview of rental companies to find out who offers this.
Maybe you don't want to insure your car with all-risk insurance but want to choose the insurances that you think are necessary. The following options are available:
Standard rental
With a standard rental, you are responsible for the damage incurred, including income the rental company lost because of the damage.
Third Party Liability (TPL)
This is the legal liability coverage. Damage to third parties is covered up to the maximum amount allowed by law for which you are liable.
Supplemental Liability Insurance (SLI)
This option increases liability coverage towards third parties (i.e., the TPL).
Loss Damage Waiver (LDW)
The LDW (a combination of a Collision Damage Waiver and a Theft Waiver) limits the maximum amount you are liable for damage to the car. Collisions, accidents, and theft may cause damage to the vehicle. The remaining amount you could owe depends on the vehicle.
Windows and Tires (WWI)
With the WWI, you are covered for damage to tires and windows caused by accidents and poor road conditions. Theft of these parts is excluded from this insurance option.
Super Loss Damage Waiver (SLDW)
This option lowers the LDW deductible to 0%. This is on the condition that you adhere to the rental agreement.
Roadside Assistance (RSA)
By choosing this option, you have access to roadside assistance services.
Mexico has an outstanding free roadside assistance service called the 'Ángeles Verdes' (green angels). Want to read more about insurance and the 'Ángeles Verdes'? This article provides more detailed information about insuring your rental car in Mexico.
Young drivers and car rental in Mexico
You also have to deal with different age categories as a renter in Mexico. Below is everything you need to take into account when renting a car, depending on your age.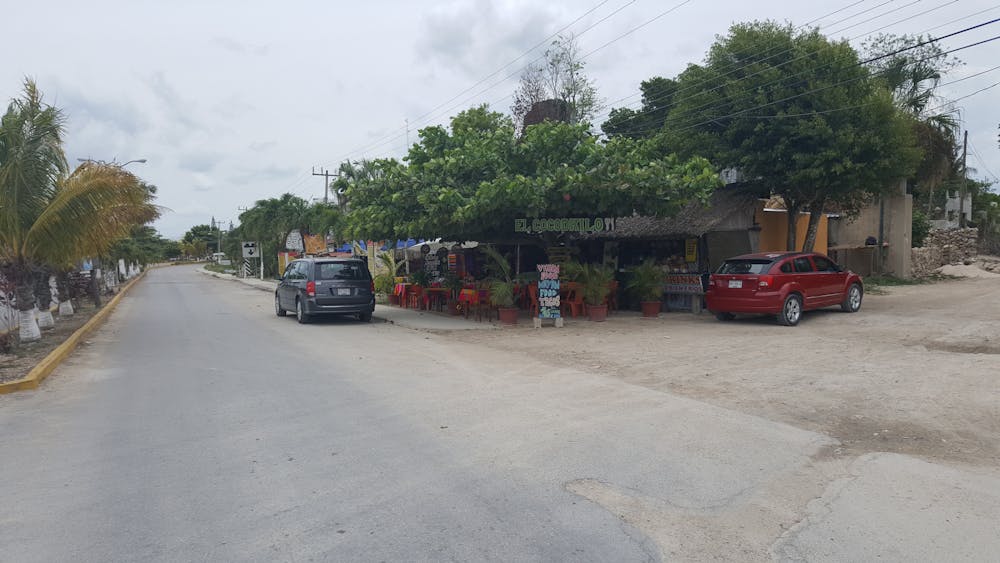 18 to 21 years
You can go to several rental companies to rent a car. However, the choice of models is limited. In addition, you pay a young driver surcharge.
Want to know which rental companies you can go to and what surcharge you'll pay? Look it up in our handy overview of rental companies in Mexico.
21 to 25 years
You can go to any rental company if you are 21 or older. However, the rental company will charge you a surcharge because you are a young driver.
25 to 75 years
People aged 25 to 75 years old can rent a car anywhere. The only requirement that usually applies is that you must hold a valid driver's license for at least one year.
over 75 years old
In general, you can just go to the major parties to rent a car.
Want to know more about renting a car at your age? Then read all the information about from what age you can rent a car in Mexico.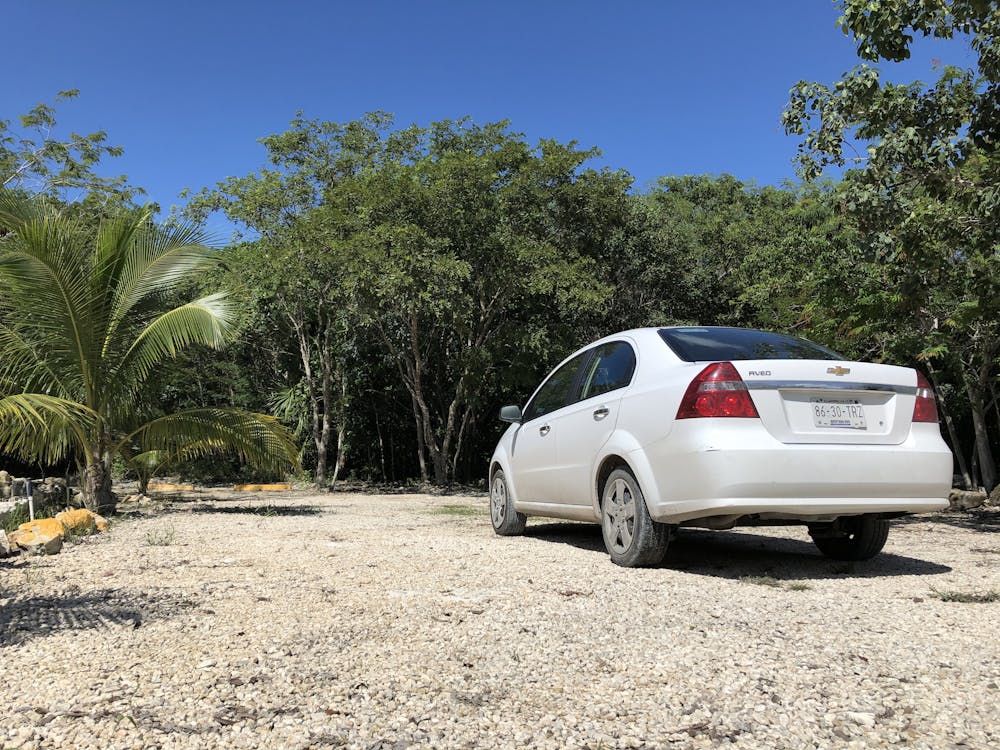 Renting a car without a credit card
Want to rent a car in Mexico without a credit card? That significantly limits your choices. The only way to rent a car in Mexico without a credit card is with the so-called "debit card." Such a debit card is also called a prepaid credit card.
Using a credit card to rent a car in Mexico is the most convenient.
We have described in more detail how to rent a car in Mexico without a credit card on another page of our website.
What you need to rent a car
You need the following documents to rent a car in Mexico. This applies to everyone no matter their age:
A valid driving license for at least 1 year;
A valid passport or identity card;
A credit card.
In practice, insurance companies impose mandatory conditions on car rental companies. As a result, some rental companies allow you to choose from fewer models if you have had your driver's license for less than two years. Sometimes this limit is even up to three years.
International driver's license
The US or European driver's license is valid for driving a car in Mexico. However, an international driver's license may be helpful when a translated driver's license is required.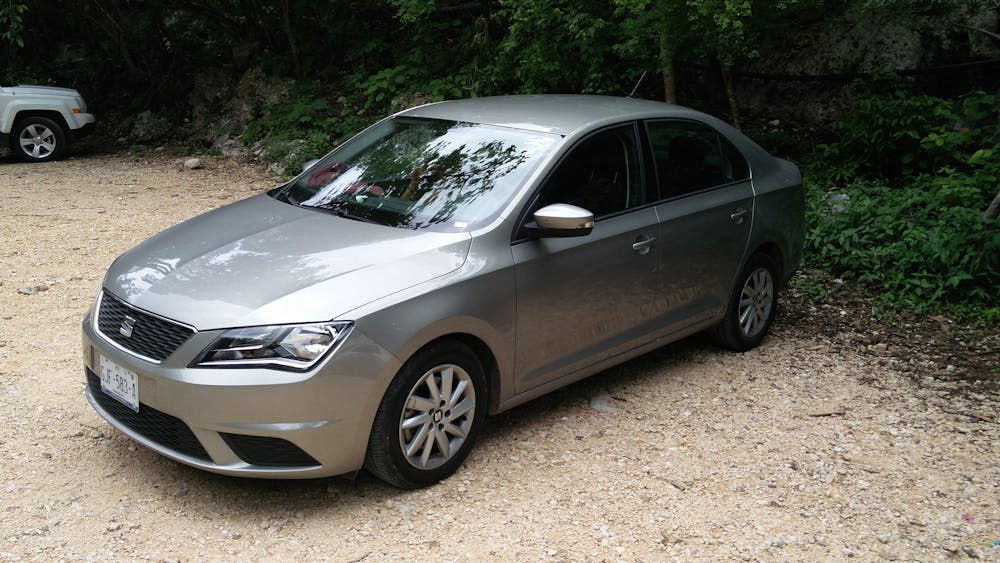 Cost of a rental car in Mexico
In order to give you a precise cost estimate, Roadtripcar.com periodically researches rental companies. For the estimate below, we compared rental cars that are fully insured and have a deductible of €0.
The listing below is an estimation. Please check the table on the page car rentals in Mexico to see which one is the cheapest and best suits your needs.
Notice! The rents below are based on the period before the disruptions in the market. It is not yet possible to say whether the price level will recover in the coming period. Currently, the prices are considerably higher than usual. Please take this into account when looking for a rental car.
The cost of a rental car in Mexico with all-inclusive insurance:
$23 (€20) / day for a small car, such as a Volkswagen Gol (indeed, without an "f");
$28 (€25) / day for a medium-sized vehicle, such as a Hyundai Accent;
$79 (€70) / day for a van, such as a Kia Sedona;
$67 (€60) / day for a 4x4, such as a Jeep Patriot.
Different car rental types
When renting a car in Mexico, you can pick the best car type for your situation and needs.
Normal car (hatchback or sedan)
If you are with 2 or 3 people, a smaller car is fine for traveling long distances. Most of the roads you will be traveling on are paved.
Minivan
We rented a minivan with five people for a road trip through Yucatan and Quintana Roo. This turned out to be the right choice. The luggage would not have been able to fit in a regular car!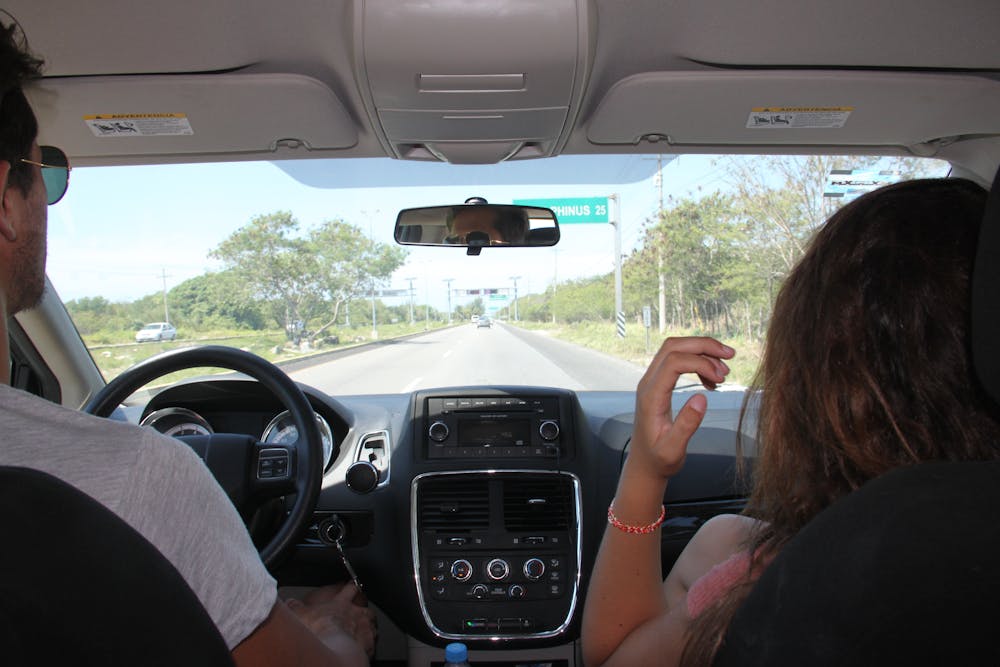 Road tripping with a minivan is comfortable and cozy.
4x4 / Off-Road
Most roads in Mexico are paved, so a 4x4 car is unnecessary. However, in some states (for example, Baja California), there are unpaved roads. If you have a regular car there, the car will shake and and all of the vibrating will drive you crazy, so a 4x4 is handy.
Camper
To complete your Mexico experience, you can travel around and camp in an RV. It doesn't get any better than falling asleep on a white sand beach under the stars and next to a campfire.
Without rental car
It is possible to visit the area by "collectivo," which is the urban and regional transport in Mexico. However, keep in mind that you will spend much more time traveling if you do not have a rental car.
Roads, traffic rules, and safety
Roads and traffic rules
Mexican roads are generally paved. However, from the start, be prepared for two common causes of trouble:
Holes in the road: most roads in Mexico have holes. Watch out for them, because often the holes can be hard to see;
Topes (speed bumps): "topes" are notorious in Mexico. The first time you see a "tope" sign, you won't know what it is yet, but you'll find out soon enough.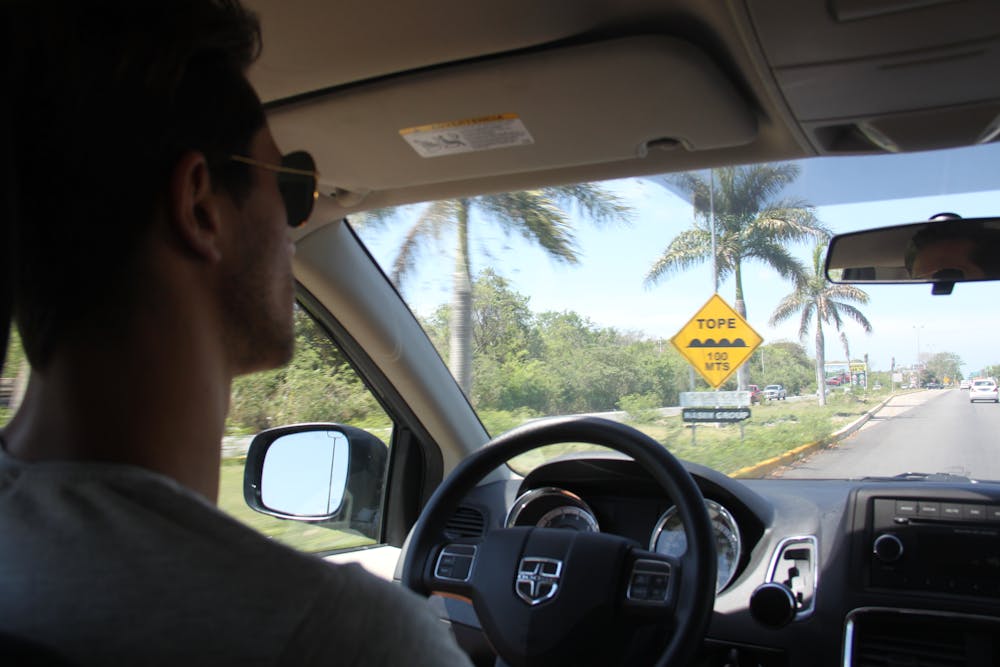 Don't miss the warning for the tope!
There are some toll roads in Mexico. These are well paved, and the speed limit is similar to Europe and the U.S. Most of the other major roads you will be on are 49 mph/80 km/h roads with businesses, stores, and restaurants along the side.
The city has two-lane freeways with a maximum speed of 37 or 49 mph/60 or 80 km/h. These roads have very short entrance and exit ramps.
In Mexico, a grid of one-way roads is used in cities and neighborhoods. Pay attention to signs on the ground where roads converge and to symbols on street signs to see the direction the road is going in. It is nice to be aware of situations you may encounter on Mexican roads.
In another article, we will give you more important information about the roads in Mexico.
In Mexico, your safety is in your own hands
In general, it is safe to drive a car in Mexico. You will not easily be bothered by criminals during the day and in the tourist areas. However, it is not recommended to drive outside the city at night.
Arrests by corrupt cops are a regular occurrence. Unfortunately, it has happened to us too. Read the next page to learn about corruption and what to do if you are stopped.
Is it safe to drive in Mexico?
In general, it is safe to drive a car in Mexico. During the day and in the tourist areas you will not easily be bothered by criminals. It is not recommended to drive outside the city at night.
You may be arrested by an agent who appears to have an invalid reason. It is possible that this is an attempt by the agent to provoke bribery. Corruption is a known problem in Mexico and is especially common among local police. Be aware that you are punishable when you try to bribe the cop.
Being stopped by corrupt cops is relatively common. It has happened to us, too. Read on to the next page if you want to know about corruption and what to do if you are arrested.
The most dangerous thing that ever happened to us was a collision with a cow in Baja California. At twilight a lot of animals enter the road, it is good to keep that in mind. Adjust your speed where necessary and pay attention to the edge of the road.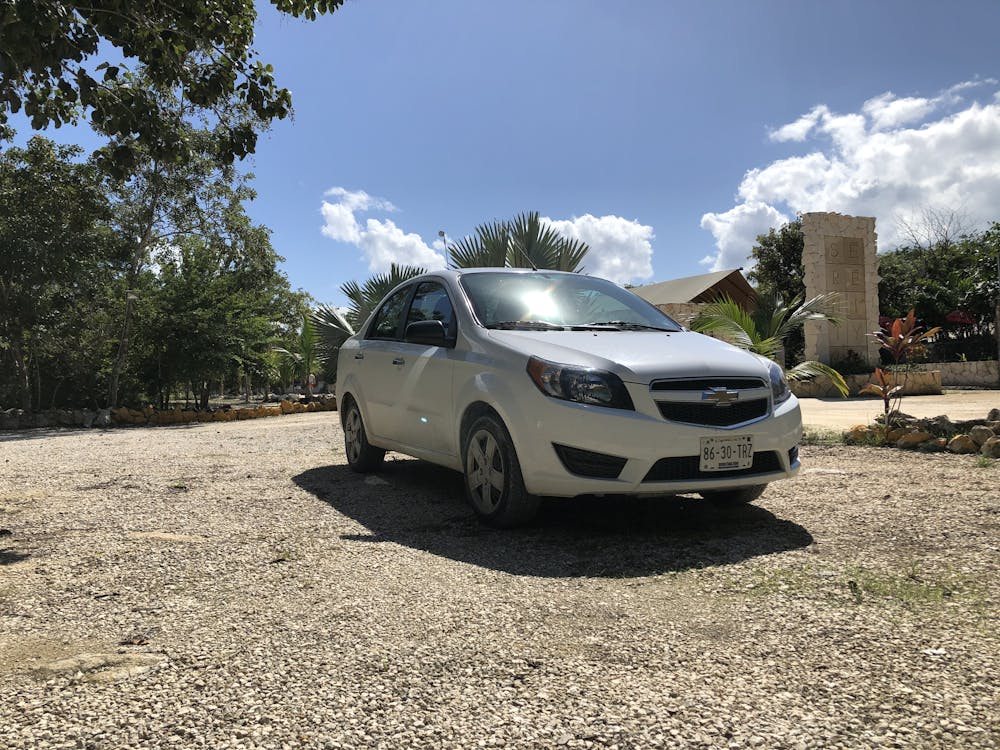 Dropping off the car at another location
It is possible to return the car to a different location in Mexico if you rent with a major rental company. How much it will cost depends on the distance between the two locations.
Visiting neighboring countries of Mexico in a rental car
What if you want to see the neighboring countries Belize and Guatemala and the United States of America by rental car from Mexico? You can read more below about entering both countries with a rental car.
United States of America
The United States of America is the most accessible country to visit with a rental car from Mexico. With more than half of the rental companies, driving a car into the US is possible. However, it is often limited to cars rented in the northern states of Mexico.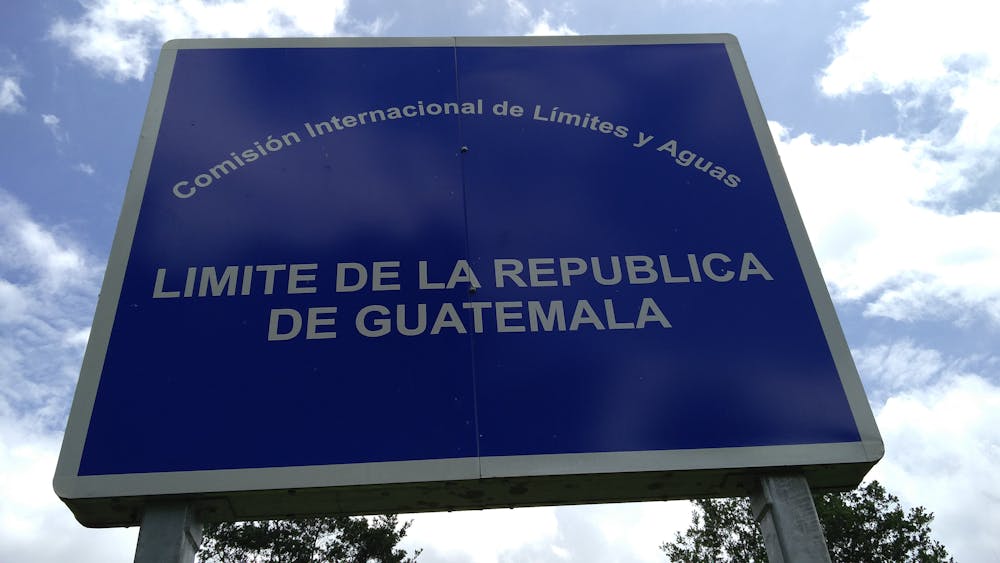 Belize or Guatemala
While touring southern Mexico, you'll soon find yourself near Belize and Guatemala. Europcar is the only major rental company we have found to allow border crossings to these countries.
It is mandatory to send a letter or email to the office 48 hours before picking up the car to travel to Belize or Guatemala. So don't forget this, because crossing borders in Latin America is not as easy as in Europe.
It is not possible to drive a rented car from Mexico to Honduras or El Salvador.
On another page on our website, you can read more about border crossings and one-way rentals in Mexico.
Tips for renting a car in Mexico: what you need to know!
Petrol price and refueling
Most gas stations are state-owned in Mexico, and a liter of gasoline costs just under one euro. When you fill-up in Mexico, it is customary for an employee to do this for you. You can tip a few pesos as a thank you for this service.
Scams at the pump
You may come across a sneaky pump attendant trying to scam you. Want to know what tricks they use? Then read our article about the best tips when renting a car.
Running out of fuel before reaching a petrol station
Mexico is a big country, and sometimes you will not find a gas station for a long time. It may happen that you run out of fuel. In that case, look for a local who is willing to sell you a few liters of fuel.
Topes (speed bumps)
We've mentioned them before in this article: topes. The problem is that they can be big and cause damage to your car. Often you don't even see them coming. So keep an eye on signs on the side of the road to find out if a tope is coming.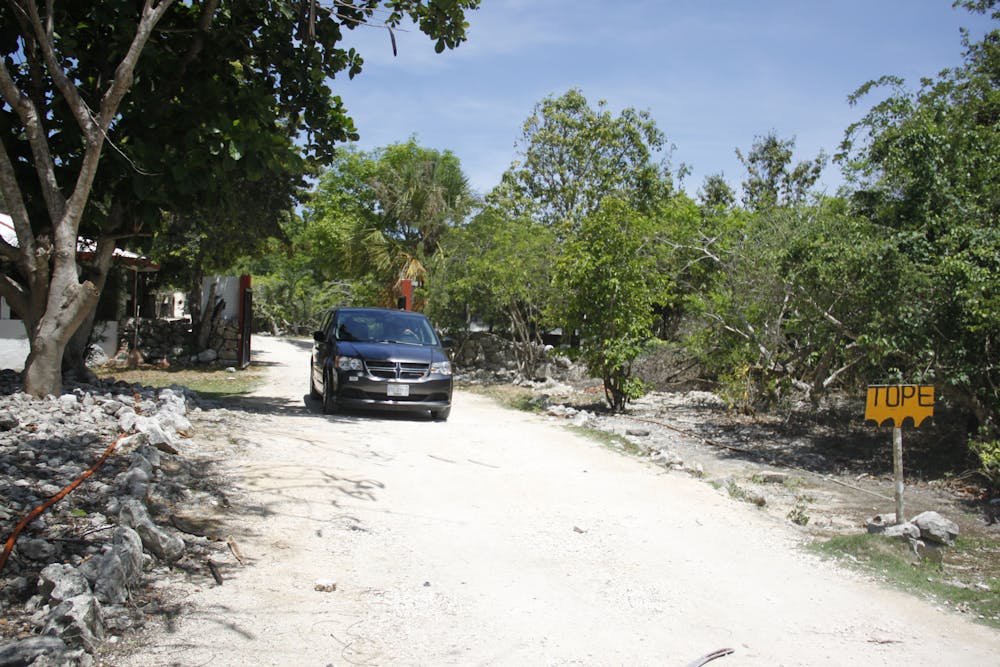 You can encounter topes even on small dirt roads.
Fines
You may get fined when driving if you do something wrong, even if it isn't something major. Therefore, if you receive a fine, it is advisable to pay it quickly at a designated office in a nearby city or town. This is because you get a discount on your fine in Mexico if you pay it earlier than the deadline.
We have collected more useful tips for driving a rental car in Mexico for you on another page of our website.
Different locations
Mexico is a very large country, larger than all of Western Europe. So you can't travel through all of that with a car during an average vacation. When planning our tours of Mexico, we chose a different part of the country each time and rented a car from a different location every time.
If you want some inspiration, check the information we have shared with you on another page of our website. There, we tell you about the various locations in Mexico from which we rented.
Car rentals and experiences
You want to make the best choice for a rental car in Mexico. Roadtripcar.com continuously researches rental companies and has made the following handy overview. This makes it easier for you to find a good rental car. We select rental companies in Mexico based on experiences, scores, prices, possibilities, and conditions.
At some rental companies, there were some bad reviews from customers. Don't be quickly put off by this. People quickly tend to post bad reviews when the problem could easily have been avoided.
Sometimes there are rental companies with a particularly large number of negative reviews. We advise you not to rent a car from such companies. If you do, we recommend you pay extra attention and follow all the tips.
Our article on the most important tips for a worry-free car rental, including a checklist, will help you minimize the chances of an unpleasant experience.
Information per rental company can be found on our car rental platform. This way, you can easily choose which company you want to rent a car from in Mexico.