Finding and renting the right car becomes much easier after you read our tips and experiences. Which specific traffic rules should you take into account in Mexico? Which rental car is best suited for your trip? How many glasses of tequila can you drink before driving? If you want to enjoy a carefree vacation, it is important to be aware of these topics.
Below we share the answers to these questions, among others. In addition, we are happy to share our tips and experiences about renting a car in Mexico with you. This way, you are well prepared to hit the road with the rental car that suits you best.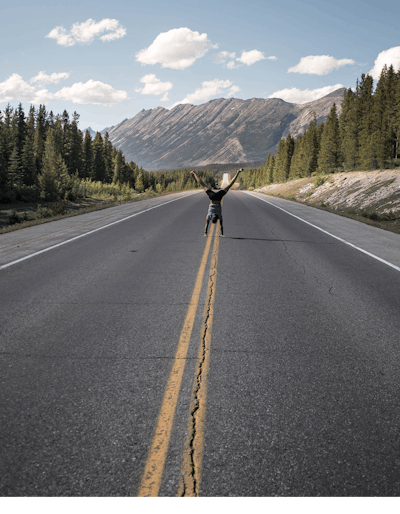 Planning to rent a car in Mexico?
Use the Road Trip Car online platform to find car rental companies best suited for your trip.
start search
What kind of rental car should you choose?
Mexico is probably quite different from your home country. Besides enchanting views and nature, the road network is also very different. Maybe that's why you're not yet sure what kind of car you want to rent. Below we share our own experiences with most types of cars:
Normal car (hatchback or sedan)
If you are with 2 or 3 people, a smaller car is fine for traveling long distances. Most of the roads you will be traveling on are paved. Of course, the car is also handy for visiting local attractions.
If you are with 4 or 5 people, then a somewhat larger car is really recommended. In Mexico, you can easily spend hours in the car to get from city to city. If you also have to store luggage, you and your fellow passengers will be happy with the extra space.
Minivan
We rented a minivan with five people for a road trip in Yucatan and Quintana Roo. This turned out to be the right choice. The luggage would not have been able to go with us in a regular car!
In Mexico, American minivans are often rented, such as large Dodges. These cars are very comfortable and also great on the unpaved roads.
4x4 / off-road
Most roads in Mexico are paved, so a 4x4 car is unnecessary. Usually, only the last bits of road to a tourist attraction or a beach is unpaved. However, do pay attention to which route you drive. In some states (for example, Baja California), there are unpaved roads. If you have a normal car there, the car will shake and all of the vibrating will drive you crazy, and a 4x4 is, therefore, useful.
Camper
To complete your Mexico experience, you can travel around and camp in an RV. It doesn't get any better than falling asleep on a white sand beach under the stars next to a campfire. Make sure you find out which areas you will be camping in advance. In Mexico, it is unsafe to just park your camper and spend the night.
Traveling through Mexico without a rental car
It is possible to visit the area by "Collectivo," which is the urban and regional transport in Mexico. However, keep in mind that you will spend much more time getting there than if you have a rental car.
Larger distances between two states can be easily done by bus. A domestic flight is often a good solution for the very big stretches.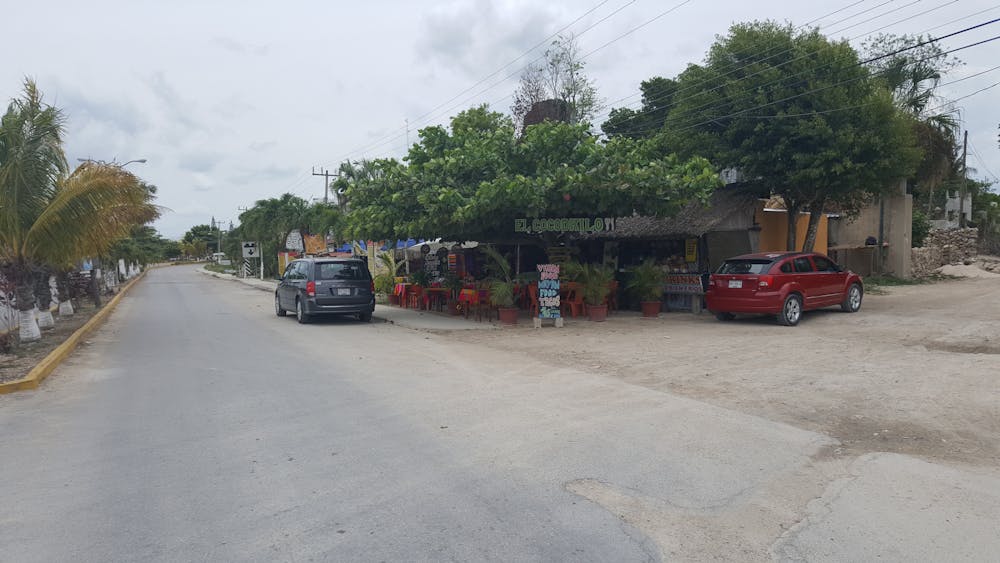 If you park your car in front of a restaurant in a small village, you can keep an eye on it.
What are the roads like in Mexico?
The roads in Mexico are generally well paved. The toll highways (supercarretaras), which are located throughout the country, are especially well maintained.
Furthermore, you will also encounter 4-lane toll roads and regular 2-lane roads during your trip. These roads are also usually good to drive on. Having said that, it's a different story when you go into the mountains or further south.
Throughout the country, these are a few things you need to know that may make driving and walking on the roads more difficult:
Holes in the road: just about every road in Mexico has holes. It is especially difficult to see them in the shadow of the road. Getting a flat tire is, unfortunately, very easy;
Topes (speed bumps): "topes" are notorious in Mexico. The first time you see a sign with "tope" on it, you won't know what it is yet. Sadly you'll find out soon enough. These sneaky speed bumps are often barely visible because they are the same color as the road;
During heavy rainfall, roads may be (difficult) to walk on;
Driving in the dark is best avoided.
In Mexico, a grid of one-way roads is used in cities and neighborhoods. For Mexicans, this is very normal. However, for us, it sometimes feels unnatural. Pay attention to signs on the ground where roads meet and to symbols on street signs to find out which way the road is going.
Also, stay vigilant when driving in the countryside. We have encountered equivalent intersections, more often than not, on a road that is considered a right-of-way road for many Europeans.
Do I need navigation in Mexico?
We always find it very convenient to have navigation with us. Besides, it is often difficult to find your way around Mexico without navigation. There are a number of options for navigation:
Apps, such as Maps.me or Google Maps;
An old-fashioned map.
Maps.me is a good navigation app for Mexico. By downloading the map of the country in advance, you can use the app and, therefore navigation, offline. Keep an eye on whether the route suggested by the app is logical. Sometimes the navigation tells you to take a certain route that isn't possible or doesn't make sense to take. Think about whether that route is safe and actually is logical to take.
You can also use Google Maps to download maps and use the app offline.
Just in case technology lets you down, it's good to have a "paper" map on hand.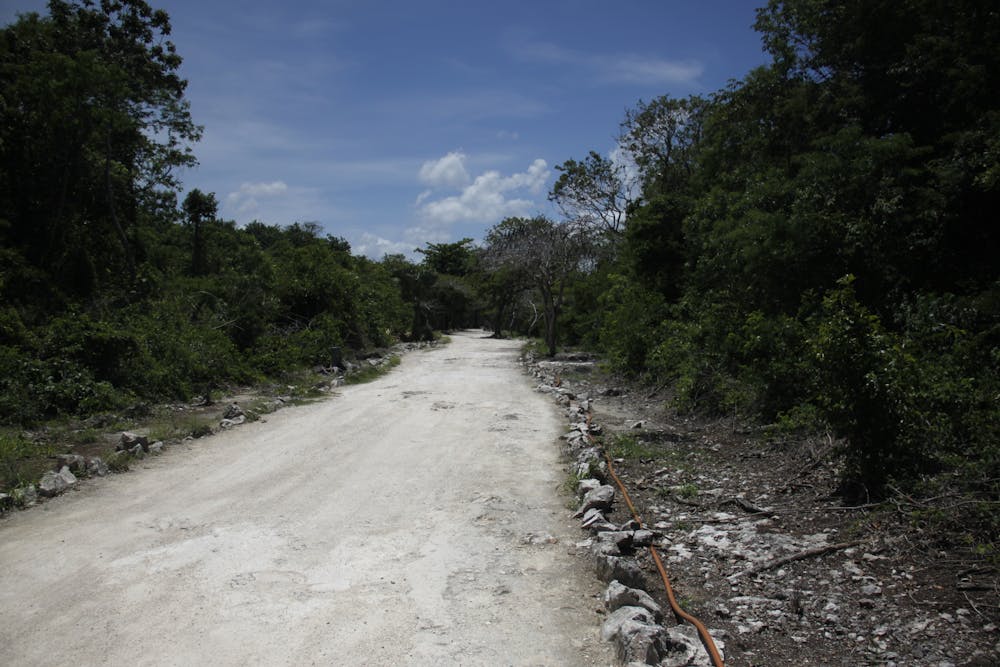 The last stretch of road to your destination may be a sand road with rocks.
Traffic rules and safe driving in Mexico
The traffic rules in Mexico are not very different from those in the United States or Europe. The most important rules to take into account are described below. We also give you some tips that will make you more confident driving on the Mexican roads.
The speed limit for passenger cars
In built-up areas, the speed limit is 31 mi/50 km per hour. It is 62 mi/100 km per hour on highways during the day. The speed limit at night becomes 55 mi/90 km per hour. In places where many people may be, the speed limit is 12 mi/20 km per hour.
Most of the major roads you will be on are 49 mi/80 km roads with roadside businesses, stores, and restaurants. Be careful because the entire side of the road is considered a ramp! The city has dual freeways, with a maximum speed of 37 or 49 mph /60 or 80 kph. These roads have very short entrance and exit ramps. It is normal to stand still on the entrance ramp and wait for a gap, then pull up very quickly and merge into traffic.
In Mexico City, slightly different speed limits apply. There you will encounter maximums of 43, 24, and 18 mph/70, 40, and 30 kph.
Who has the right of way?
Pedestrians should always be given the right of way at intersections without traffic lights;
Unless otherwise indicated, these are the rules at intersections of equal roads: (1) drivers from the right have priority when both roads are equally busy, and (2) drivers on the busiest road have priority;
In practice, you see that the law of the largest car usually applies.
Rules at traffic lights
If the traffic light is red, you may turn right. If the road with the green light is a one-way street, you may also turn left when the light is red.
Audible signal: honking your horn
An audible signal may only be given if there is a risk of a collision.
Parking
Concerning parking your car, it is good to be aware of the following:
You may not park on the left side of the road, i.e., against the direction of traffic. In a one-way street, you may park on both the right and left side in the parking spaces;
Outside built-up areas, you may only park next to the road;
Park only in places where permission is given by means of the letter E (Estacionamiento);
Do not park along red-colored curbs.
Cell phone
A cell phone may not be used while driving. In addition, the use of a headset as a driver while driving is also not permitted.
Children in the car
For most states in Mexico, children up to six years of age may only be transported in the back seat and in an appropriate child seat.
Is it safe to drive a car in Mexico?
In general, it is safe to drive a car in Mexico. You will not easily be bothered by criminals during the day and in tourist areas. It is not recommended to drive outside the city at night.
You may be stopped by an officer who appears to have an invalid reason for doing so. This can be an attempt by the officer to elicit a bribe.
Corruption is a known problem in Mexico and is especially prevalent among local police. Be aware that you can get in trouble with the law if you attempt to bribe the officer.
Arrests by corrupt cops are a regular occurrence.
It has happened to us too. Read on the next page if you want to know about corruption and what to do if you are pulled over.
The most dangerous thing that has ever happened to us was a collision with a cow in Baja California. At dusk, many animals come onto the road. It is good to keep that in mind. Adjust your speed where necessary and pay close attention to the road's shoulder.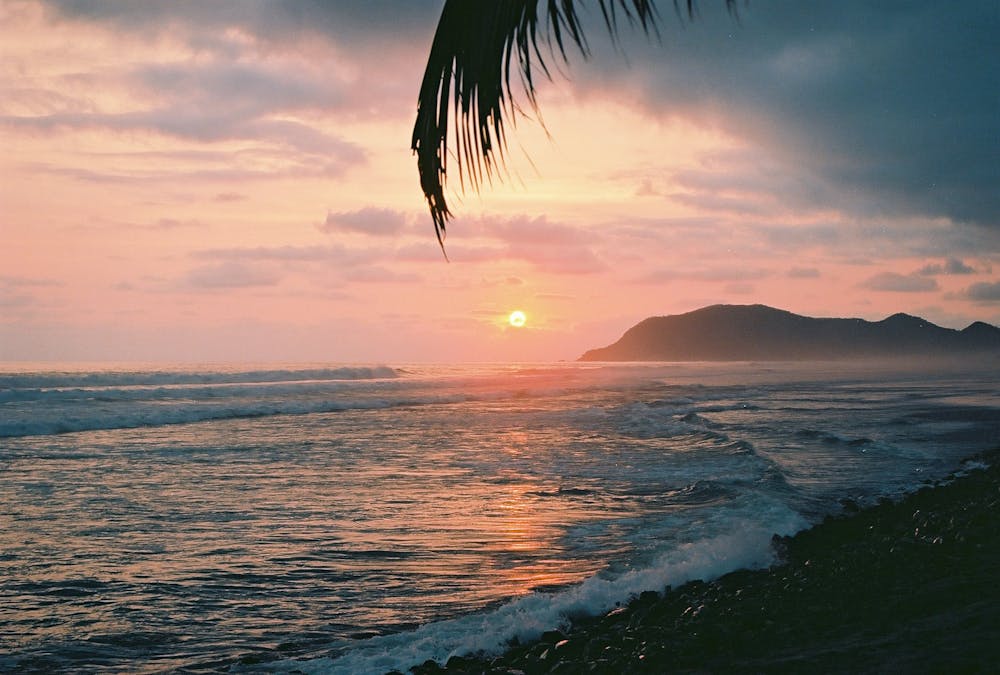 After reading our best tips for car rental, you can visit the magnificent sunset in Mexico
Tips and experiences for renting a car in Mexico
Below we share tips based on our experiences and the experiences of people we've spoken with. They can help you during your adventure in Mexico.
Petrol price and filling up
The gas stations in Mexico are state-owned, and the fuel price is regulated. As a result, each gas station has a similar price. The brand of the pump is "Pemex." A liter of gasoline costs around one dollar/euro there.
Since 2018, you also see more differences in prices at the pump in Mexico. This is because gas stations from other companies also exist.
When you fill-up in Mexico, it is customary for an employee to do it for you. If you want a full tank, you can say "lleno de magna, por favor" (pronounced jee-no de manja, por faa-voor) for normal gasoline. If you want the more expensive variety, you say, "lleno de premium, por favor."
It is customary to tip the pump attendant a few pesos.
You may come across a sneaky pump attendant trying to scam you. Want to know what tricks they use? Then read our article about the best tips when renting a car.
Running out of petrol before reaching a gas station
Mexico is a big country, and sometimes you will not find a gas station for a long time. It may happen that you run out of fuel. Make sure you do not empty the tank completely because that can leave you with engine trouble.
Look for a local resident and ask for fuel. It is often possible to buy a few gallons of fuel from someone nearby.
Topes (speed bumps)
We've mentioned them before in this article: topes. A tope (pronounced: too-pee) is a speed bump in Mexico. The problem is that they can be very large and often you don't see them coming. So keep an eye on signs on the side of the road to discover if a tope is coming.
A golden tip: usually, a tope does not come alone.
Children with rope across the road
Especially in the poorer areas, you will see this more often: children stand on either side of the road and stretch a rope across it. Slow down, but don't stop. The children will lower the rope just before you hit it. It is a little scary the first time, but you'll get used to it.
Fines
It can happen that you get a fine, sometimes even for minor offenses. In Mexico, the fines go off of personal income. But of course, given that you're a tourist, they don't know your income. Therefore, an average income will be assumed.
If you receive a fine, you should pay it as soon as possible at a designated office in a nearby city or town. This is because you get a discount on your fine in Mexico if you pay it earlier than the deadline.
Be open to the surprises of Mexico
When driving around Mexico, it is advisable to keep your eyes open. You sometimes drive through small villages with beautiful markets or restaurants worth visiting. Set aside some time in your travel itinerary to discover these hidden gems.
Driving in Mexico City
To combat poor air quality in Mexico City, a law bans cars from driving in the city. The ban applies one day of the week, plus one Saturday per month. Who the ban applies to depends on the last digit of the license plate number (calendar).
Check with the rental office to see if this restriction applies to your car. Some rental cars are excluded from this ban.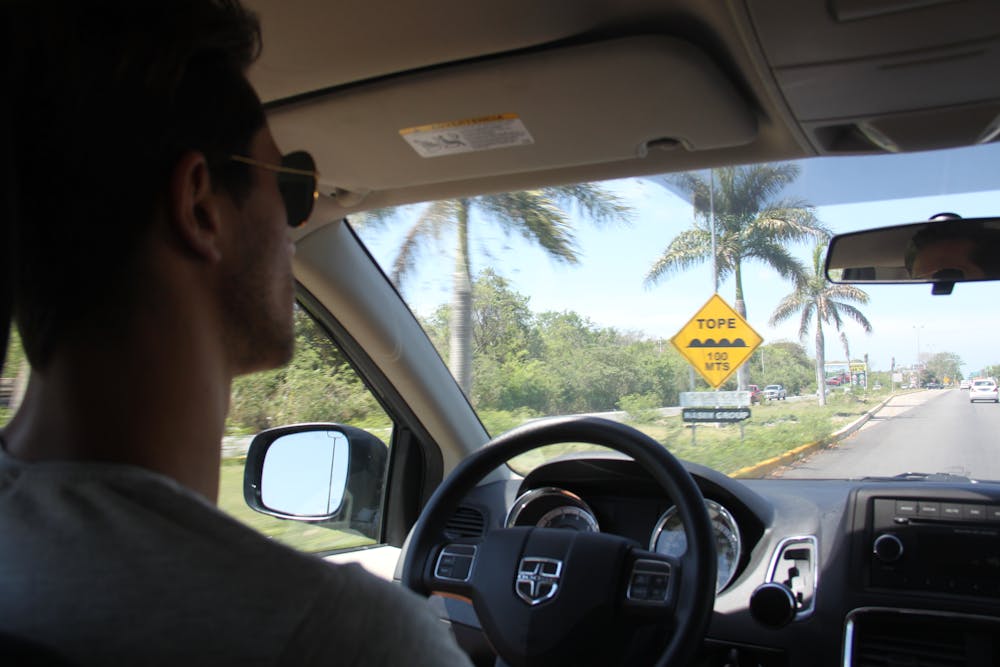 A car in good condition will help you to react to these warning signs for topes promptly
How much does a rental car cost in Mexico?
Finding a precise cost estimate for a rental car in Mexico can be difficult. There are rental companies that have hidden charges, trying to appear cheaper. In addition, it is a chore to request a price from all rental companies.
How do you know if you are paying the right price for the rental car?
In order to give you a precise cost estimate, Road Trip Car periodically researches rental companies. For the estimate below, we compared rental cars that are fully insured and have a deductible of €0.
The listing below is an estimate. Actual prices may vary, especially in busy periods. Pay attention if you find a rental car that is significantly cheaper than the prices below.
Notice! The estimates below are based on the period before the disruptions in the market. Therefore, it is not yet possible to say whether the prices will return to the previous amounts in the coming period. Currently, the prices are considerably higher than normal. Please take this into account when looking for a rental car.
The cost of a rental car in Mexico with all-inclusive insurance:
$23 (€20) / day for a small car, such as a Volkswagen Gol (indeed, without an "f");
$28 (€25) / day for a medium-sized car, such as a Hyundai Accent;
$79 (€70) / day for a van, such as a Kia Sedona;
$67 (€60) / day for a 4x4, such as a Jeep Patriot.
Which rental companies can I contact?
Now that you've read all of our tips, you probably want to start your road trip in Mexico with the rental car you want and need as soon as possible. At Road Trip Car, we've made it a lot easier for you.
With our online tool, you can compile an overview of rental companies where you can rent a car from that you need and want. Within minutes you will have found the ideal rental company.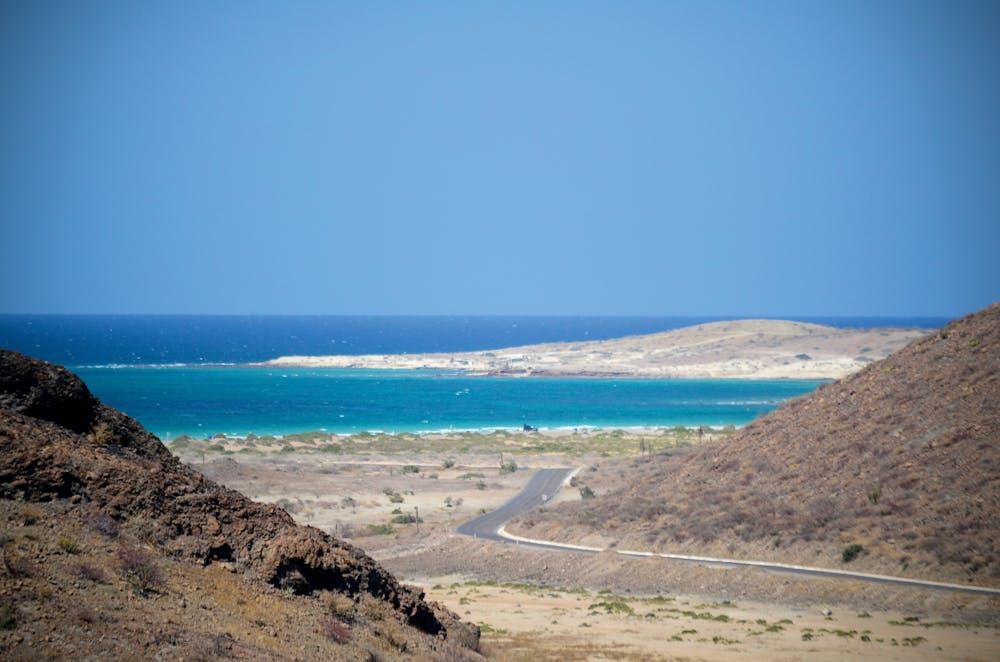 With your rental car, you can drive this beautifully paved road to the beach of La Paz Mexico
Frequently Asked Questions
How much does it cost to rent a car in Mexico?
How much your rental will cost depends on several things. For example, what kind of car you want/need, the period in which you are renting, for how long (average day price increases the longer your rent), and how you want to insure the car, for example.
Our comparison tool allows you to search for the best rental company that suits your wants and needs.
Can I drive into Mexico City?
Because of the pollution, not all cars are allowed to drive into Mexico City at the same time. Ask your rental company if the rental car is excluded from the ban or on which days you can enter the city by car.
How can I rent a car in Mexico?
Rent a car online well before your holiday to give you the best chance of having a car at your disposal for the best price. Our comparison tool will help you to find the rental company that suits you best.