It is a wonderful adventure to rent a car and discover Mexico.
Mexico is bigger than Western Europe: it is a gigantic country. A rental car is therefore not an unnecessary luxury during a vacation or road trip. People usually travel between states by bus or airplane. A rental car in Mexico is useful for visiting beautiful spots and tourist attractions and exploring one or more states.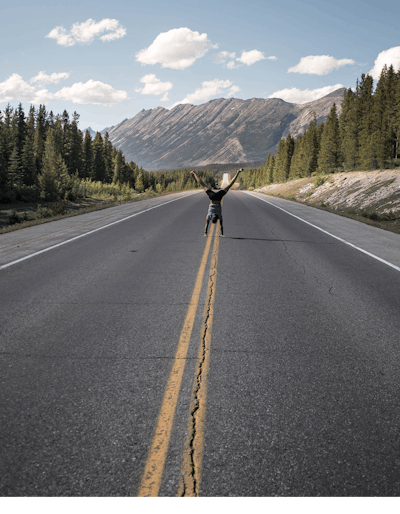 Planning to rent a car in Mexico?
Use the Road Trip Car online platform to find car rental companies best suited for your trip.
start search
Where will your tour of Mexico begin?
Mexico is one of our favorite countries to tour, so we have already rented a car in several cities there. Have you decided on your starting point, or are you still in doubt? Below we briefly describe the locations from which we started our road trips.
Rent a car in Cancun or Playa del Carmen
Cancun is a good location to rent a car and start your tour. It is the largest tourist city in the region, giving you ample choice of rental cars. In addition, most rental companies are close to the airport and often organize a free shuttle for you between the airport and their offices.
Playa del Carmen also has offices of most rental companies since it is a very touristy place. Still, you tend to have more choices of cars in Cancun.
Do you want to rent a cheap, hassle-free car in Cancun that meets your needs? Use the convenient overview of our research on rental companies in Cancun.
In the area around Cancun, you can see and experience amazing things. There are incredibly beautiful cenotes to admire from above and below the water. And what about the adventurous Mayan ruins in Tulum-ruins-beach and Coba? You can visit more with a rental car than with public transportation, especially on the Riviera Maya.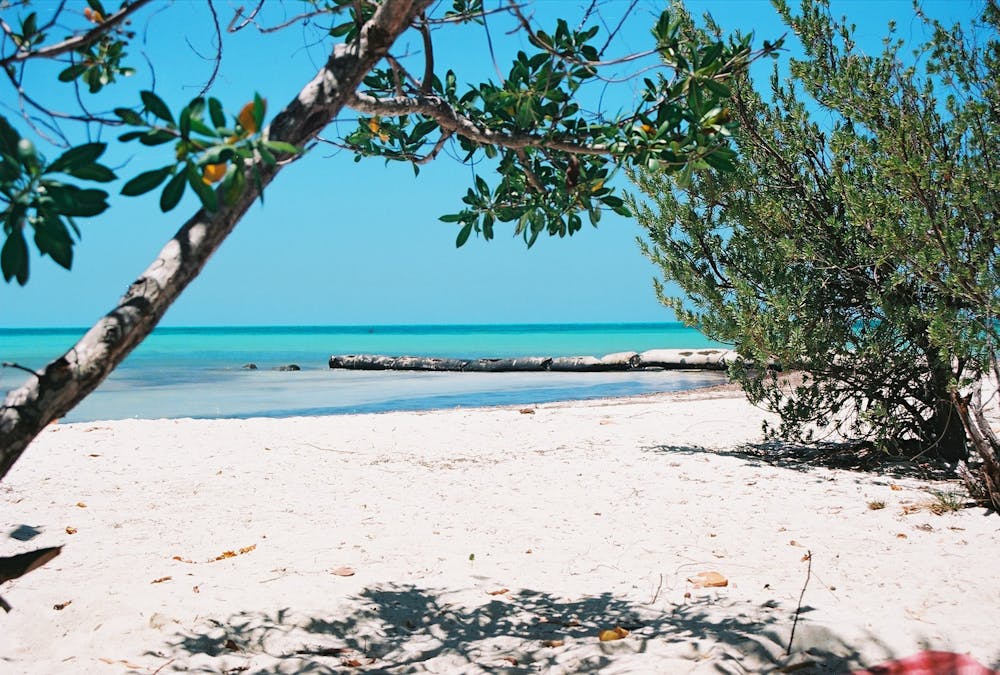 The playas on Holbox as well as the sea are divine
Rent a car in Guadalajara
Guadalajara is Mexico's second-largest city and has many rental companies. From Guadalajara, you can take adventurous day trips or start a tour through the beautiful towns in that area.
Do you want to rent a car in Guadalajara cheaply and hassle-free that meets your needs? Use the convenient overview of our research on rental companies in Guadalajara.
Some road trips we have taken from Guadalajara are:
A weekend to Puerto Vallarta and the hippie villages in the area. Especially for people who surf, this is a must;
A day trip to Tequila and visit a tequila distillery as well. While planning your visit, keep alcohol in mind: during the tour, you will drink quite a bit of tequila, so don't get in the car right after!
A weekend to Michoacán to experience the most deserted beaches and authentic villages. It is strongly discouraged to drive in this area after dark.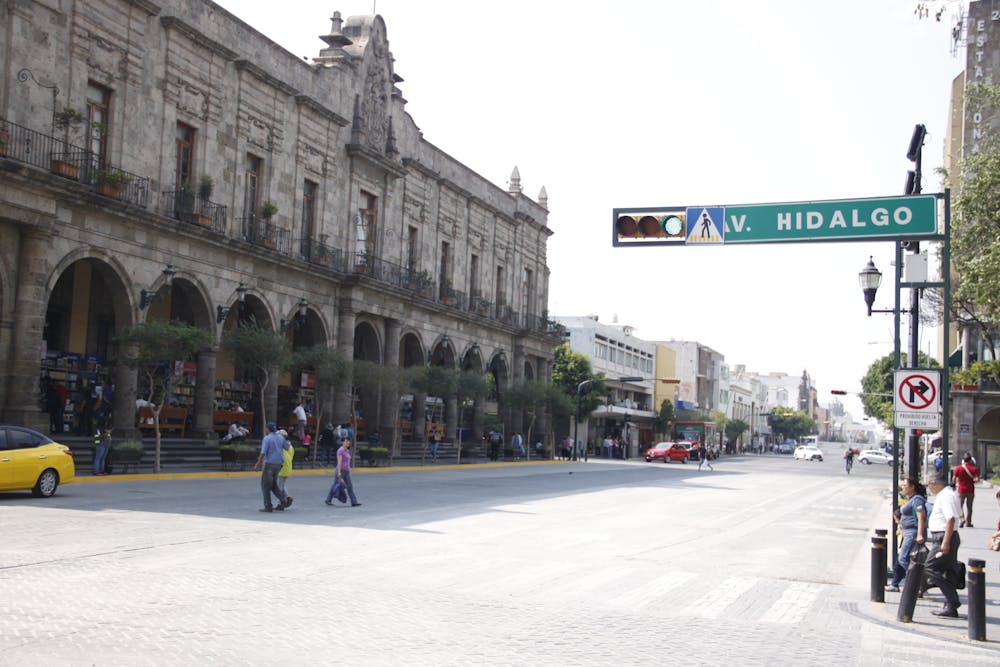 A well-known street in Guadalajara
Rent a car in La Paz (Baja California Sur)
Baja California Sur is excellent for an exhilarating road trip. Most people will land at one of the airports in La Paz or Cabo San Lucas. Both cities are great places to reserve a rental car as some well-known rental companies have offices there.
Do you want to rent a cheap and hassle-free car in Baja California Sur that meets your needs? Use the convenient overview of our research on rental companies in Baja California Sur.
In Baja California, there is much to experience. For example, a classic desert filled with cacti and spectacular underwater life (snorkeling with whale sharks!). However, be careful when driving through the desert, especially after dark: animals often walk on the road.
We had a collision with a cow there ourselves once! It all ended well for the cow and us, but be aware of this danger to avoid discomfort.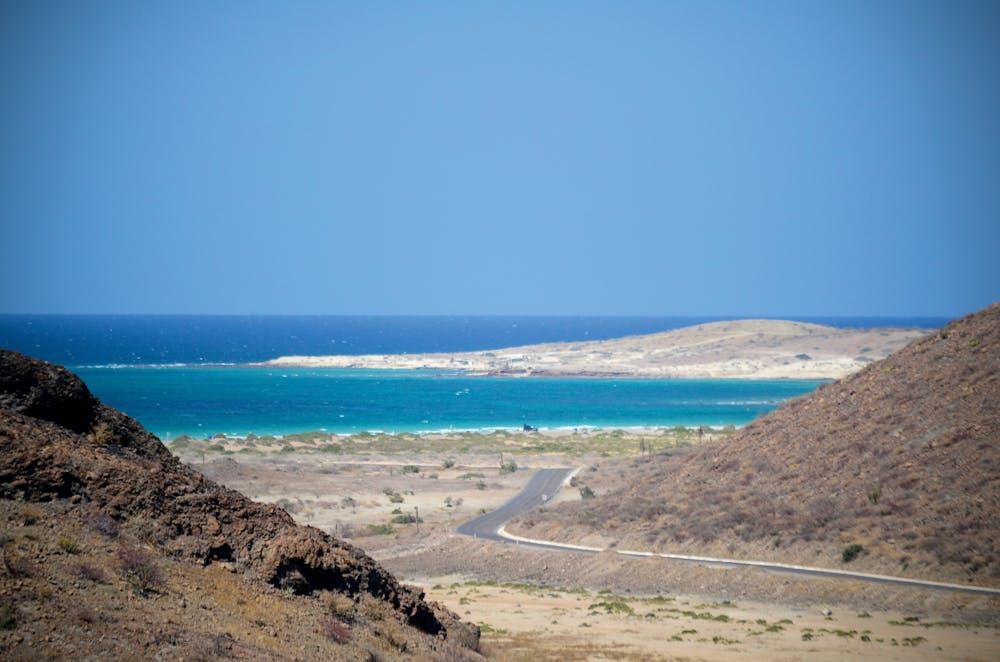 The road to La Paz Baja California Sur
Rent a car in Mérida
In Mérida, there are most of the well-known rental companies, but also local companies. Do you want to rent a car in Mérida cheaply and hassle-free that meets your needs? Use the handy overview of our research on rental companies in Mérida.
The city is fun to visit, but there are many tourist attractions worth visiting in the surrounding area. Explore the ancient Mayan ruins and go search for monkeys in the jungle. A visit to Yucatán can be well combined with an itinerary through Quintana Roo.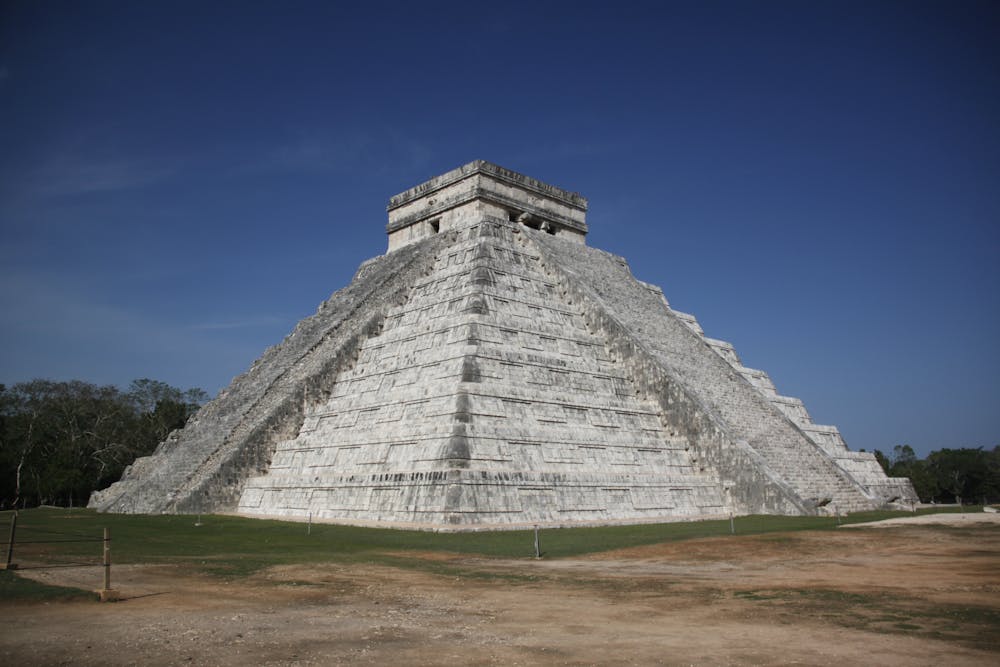 Chichén Itzá Maya Temple near Merida
Rent a car in Mexico City
Mexico City is the second-largest city in the Americas, so there are plenty of car rental companies there. Think carefully about when you book your car. In Mexico City, it is much better to travel by public transport or one of the well-known cab apps. From Mexico City, you can start a wonderful tour of Mexico itself.
Do you want to rent a car in Mexico City that meets your needs cheaply and hassle-free? Use the convenient overview of our research on rental companies in Mexico City.
From Mexico City, you must absolutely not miss the pyramids of Teotihuacán. And this place can be easily reached by public transport from the city. A bit further on is the beautiful Puebla, a typical Mexican city worth visiting. While you're there, don't forget to eat the delicious "Mole" (pronounced mo-lé)!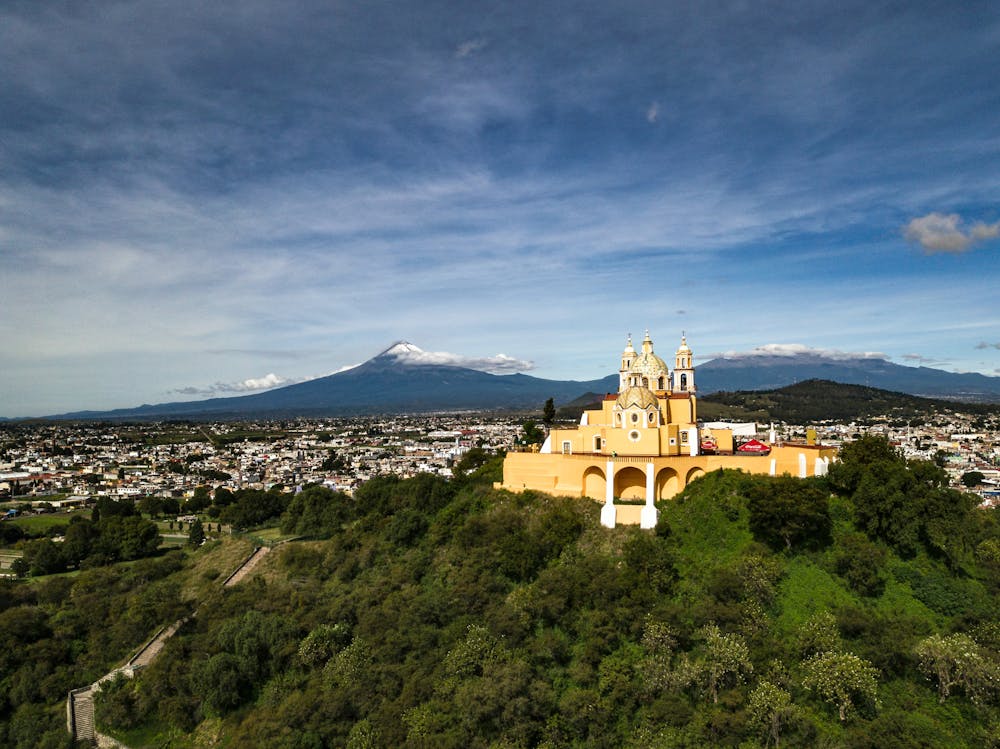 Puebla, a scenic city in the mountains
Rent a car in Valladolid
Are you traveling to Valladolid and want to rent a car? Then, we recommend renting a car in Merida or Cancun. From there, you have a decent choice of rental cars. Moreover, you can visit incredibly beautiful places from those cities towards Valladolid!
By rental car to the neighboring countries of Mexico
Mexico is incredibly diverse and large, but maybe you'll also want to cross the border in your rental car! Mexico borders the United States of America (USA) in the north. In the south, Mexico has tropical neighbors, Belize and Guatemala.
What if you want to enter one or more of these three countries by rental car? You'll read about crossing the border in a rental car to each different country below.
United States of America
The United States of America is the easiest country to visit with a rental car from Mexico. With more than half of the rental companies, driving a rental car into the US is possible. However, it is often limited to cars rented in the northern states of Mexico.
Rental companies charge additional surcharges to take the car into the US. At least a third-party insurance surcharge of $10 to $15 per day is charged. The more expensive rental companies also charge an additional border insurance fee of about $10 per day.
Expect long traffic jams to enter the United States by car.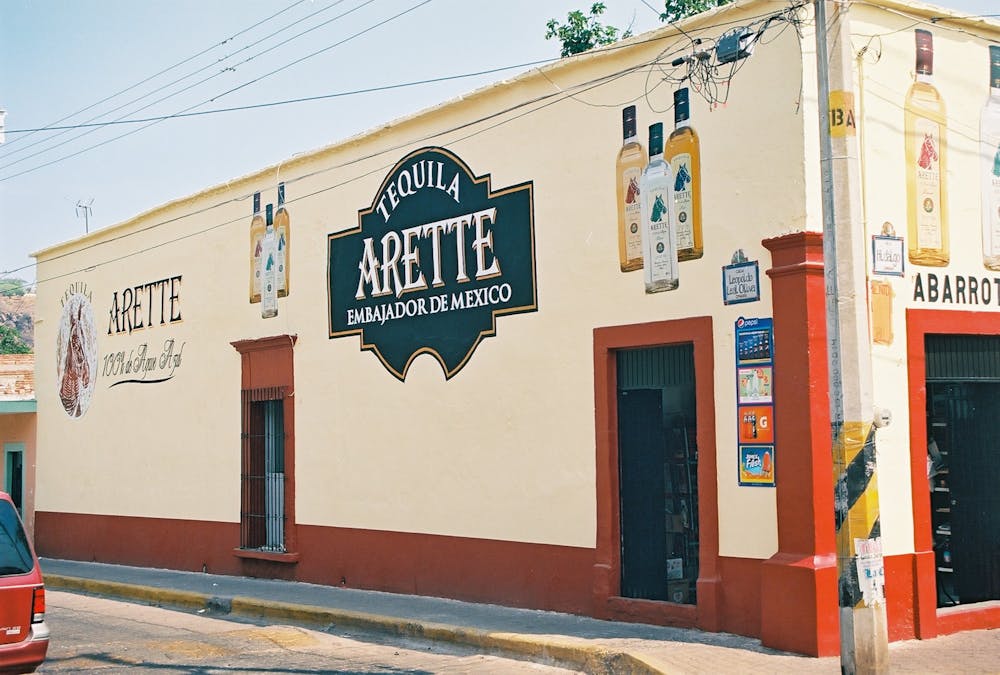 A wall painting in Tequila
Belize or Guatemala
While touring southern Mexico, you'll soon find yourself near Belize and Guatemala. Europcar is the only major rental company we have found to allow border crossings to these countries. It is mandatory to rent a car in one of the Europcar offices in southern Mexico (like Cancun, Playa del Carmen, Mérida, and Chetumal). You can find the exact offices on their website(s).
To travel to Belize or Guatemala, you must send a letter or email to the office 48 hours before picking up the car. So don't forget this, because crossing borders in Latin America is not as easy as in Europe.
There may also be conditions as to where you may cross the border. In Guatemala, for example, this is often only allowed through Tapachula. Check this out in the rental company's terms and conditions.
Other rental companies generally do not allow border crossings in Central America. This is because their own insurance companies do not cover it. So it is also not possible to drive a rented car from Mexico to Honduras or El Salvador.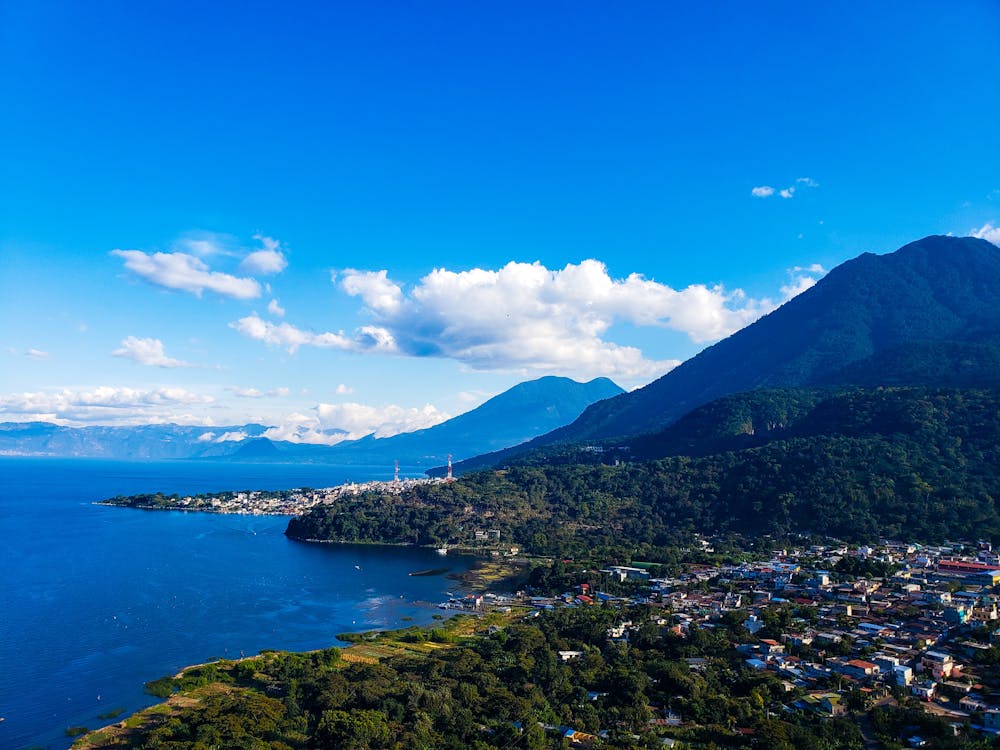 A view in Guatemala
One-way car rental in Mexico
It is possible to return your rental car to a different location than where you picked it up when renting with most major car rental companies. The cost charged for this one-way service depends on the distance between the two locations. The rental company can share the exact price with you when they process the request.
Are you booking a one-way car rental in Mexico? Be sure to book the car at least three days in advance and share your one-way destination with the rental company. Car rental companies have complex schedules. Therefore, the one-way booking may not be accepted if you are late.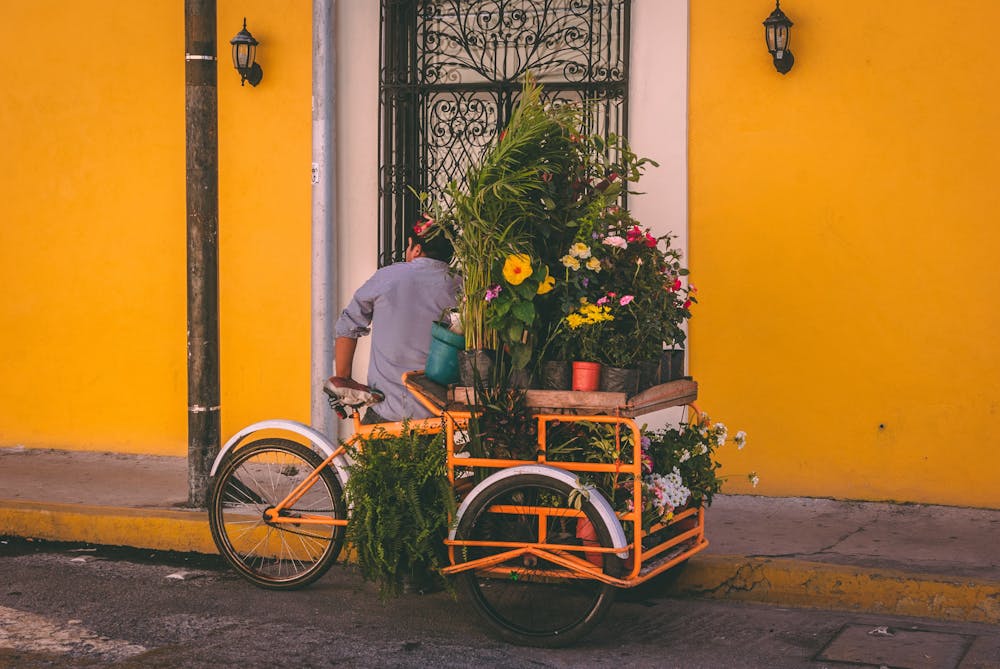 Flower salesman in Merida
Which rental companies can I contact?
Now that you're aware of the border crossing and one-way options, you probably want to get on your adventure in Mexico with the perfect rental car as soon as possible. At Road Trip Car, we've made it a lot easier for you.
With our online tool, you can compile an overview of rental companies where you can rent the car that you need and want. Within minutes you will have found the ideal rental company.