Renting a car in Spain becomes so much easier after you read our tips and about our experiences. Spain is a country with an extensive and well-maintained network of roads. Add the sunny coastal regions, the rugged mountainous areas, the charming hidden villages, and the variety of major cities, and you won't be able to wait to explore this country by car.
We are happy to share our tips and experiences about renting a car in Spain with you. That way, you'll be well prepared to hit the road with the rental car that suits you best.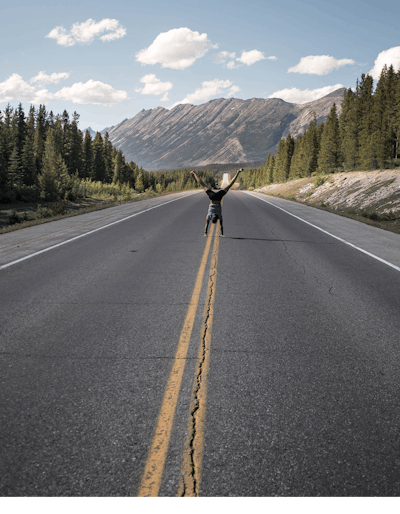 Planning to rent a car in Spain?
Use the Road Trip Car online platform to find car rental companies best suited for your trip.
start search
What should you pay attention to when you rent a car in Spain?
In this article, we give you tips on what to pay attention to when you rent a car in Spain. Of course, there are some important tips you should always keep in mind when renting a car. Road Trip Car has written a separate article on these tips and a handy checklist for you.
Which car should you choose?
You are planning to rent a car in Spain but are unsure which car to choose. These tips will get you started:
Are you planning to explore the area around where you're staying and visit nearby villages? Then a smaller car with a powerful engine is recommended. In villages, the roads are often narrow. To get up the mountains, a strong engine is indispensable;
Does your vacation consist of a tough road trip? Then a little more comfort is welcome. If you go inland and into the mountains, you will enjoy an SUV. The downside of an SUV is that you have to search longer for suitable parking spots. If you travel from city to city, a slightly smaller car is more convenient. TIP: Seville, Granada, Cordoba, and Madrid are wonderful cities to visit on a road trip;
Planning a trip along the coast in the spring? Then maybe a convertible is for you. In the spring, a convertible is ideal. However, in the powerful summer sun, sitting in a convertible is less enjoyable;
If you are renting a car with your family or several friends, it becomes important to consider the space in the car as well. Four people and four suitcases just don't fit in that smaller car. A vehicle with more space definitely matters in that sort of situation;
Going on a road trip with more than four people and luggage? Then look for a van with a powerful engine for a wonderful travel experience.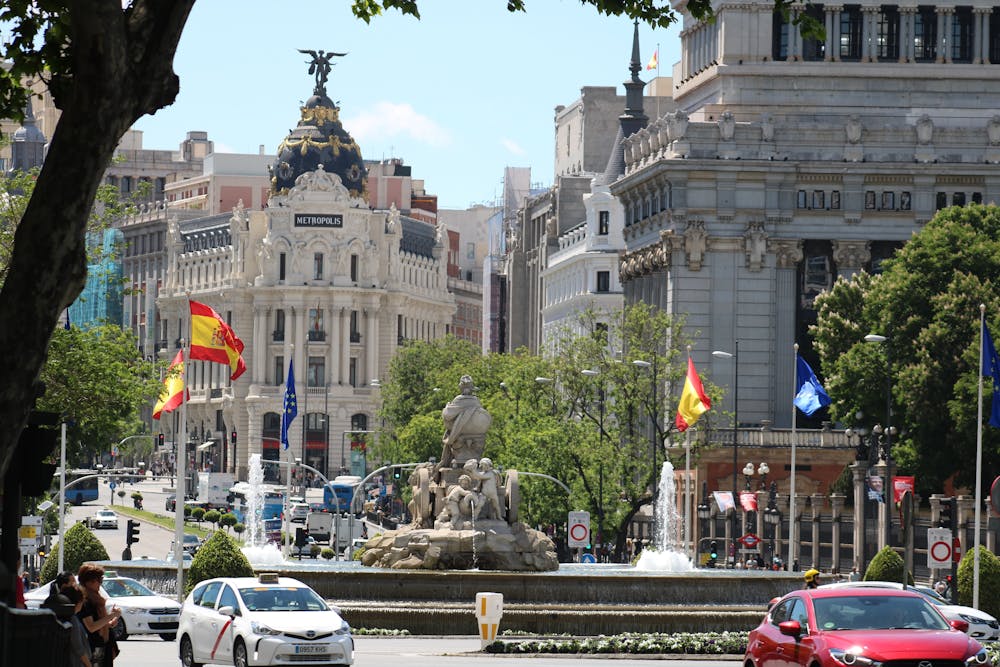 Spanish cities have large busy streets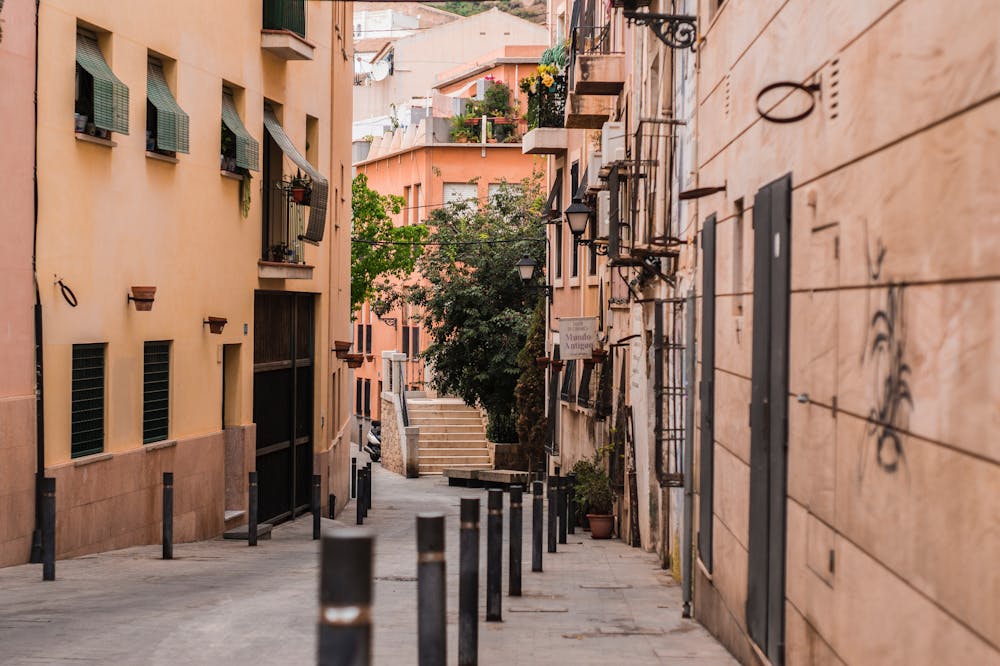 But there are plenty of narrow streets too!
Never put valuables in plain sight in the car! In Spain, as in other countries, a window can be smashed instantly.
Where to rent a car in Spain?
It's best to rent a car online well before the start of your vacation. You will then have the most choice of models and time to compare offers from different companies.
For European renters: do you have a credit card? Check with the credit card company if they cooperate with certain car rental companies. This can give you a financial advantage.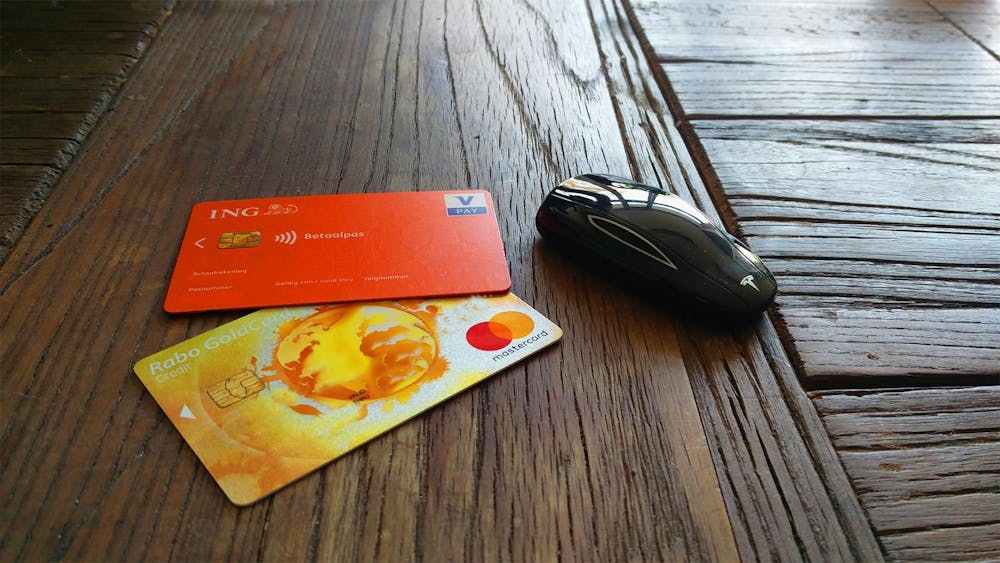 All known major rental companies rent cars in Spain. Which company is the best choice for you depends on your wants and needs. You can read bad reviews about almost every rental company.
Do not be put off by this. Some bad reviews are accurate, but often they are posted by people who could have avoided their unpleasant experience by thinking more carefully. For example, they might have rented a car online with all-risk insurance and then signed up for another (unnecessary) insurance at the pickup counter anyway.
First, read the tips in this article and in our article on crucial car rental tips. Then, choose what kind of car you want to rent and what insurances you find essential. Your search for the right rental car can finally begin. If you carefully read and follow the tips in our articles, the chances of you having an unpleasant experience when renting a car will be minimal.
Important traffic rules in Spain
Before getting behind the wheel in Spain, it is crucial to be aware of some rules:
- The maximum permitted blood alcohol level for experienced drivers in Spain is set at 0.5 grams per liter. If you have had your license for less than two years, 0.3 grams per liter is the maximum. On average, that roughly equates to two glasses of beer/wine or whiskey for experienced drivers or one glass for beginners. Driving under the influence of narcotics is completely prohibited;
Do you receive a fine for speeding or a parking violation? Then try to pay it within 20 days, as this will get you a 50% discount. If you have it arranged through the rental company, there will be between $/€20 and $/€50 of additional costs;
Spain has a general rule that while driving, you must always be in control of the car, have a clear view, full freedom of movement, and your constant attention. As a result, you may be fined if you wear flip-flops or drive barefoot while driving, get behind the wheel in your bathing suit, eat, drink, or smoke, take something from your bag, shave or put on makeup, operate a device or hold your phone. This also applies when you are stopped at a traffic light or in a traffic jam;
Wearing a headset, headphones, earbuds, or ear protectors is not permitted for drivers. Hands-free calling is allowed;
Drivers from the right have the right of way at an intersection unless otherwise indicated by traffic signs. In Spain, a thick broken line indicates the right of way. Before this broken line, there is often a triangular traffic sign saying "Ceda el paso" and an inverted triangle on the road;
In cities, it is not always clear whether you can park in certain spots. Therefore, park in a parking garage to avoid an expensive fine. When parking in villages, keep in mind that traffic must still be able to pass. Otherwise, you can park anywhere in villages and inland areas;
In Spain, you cannot park against the direction of traffic; only in a one-way street is it allowed to park on both sides if there is no prohibition sign;
Did your car break down on the road? Then always put on a safety vest and use a warning triangle. This is mandatory in Spain;
Underage children not taller than 136 cm may not sit in the front seats. In the back seat, they must always sit in a child seat. Children may not travel with you in your lap;
If you see a sign with "Area de prioridad residencial," this is an environmental zone. You are usually not allowed to enter it with a rental car;
Always keep 1.5 meters distance from cyclists when passing.
Crossing the border with a Spanish rental car
Taking your rental car to Portugal during your trip doesn't have to be a problem. Crossing the border into France and conquering the Pyrenees is also possible.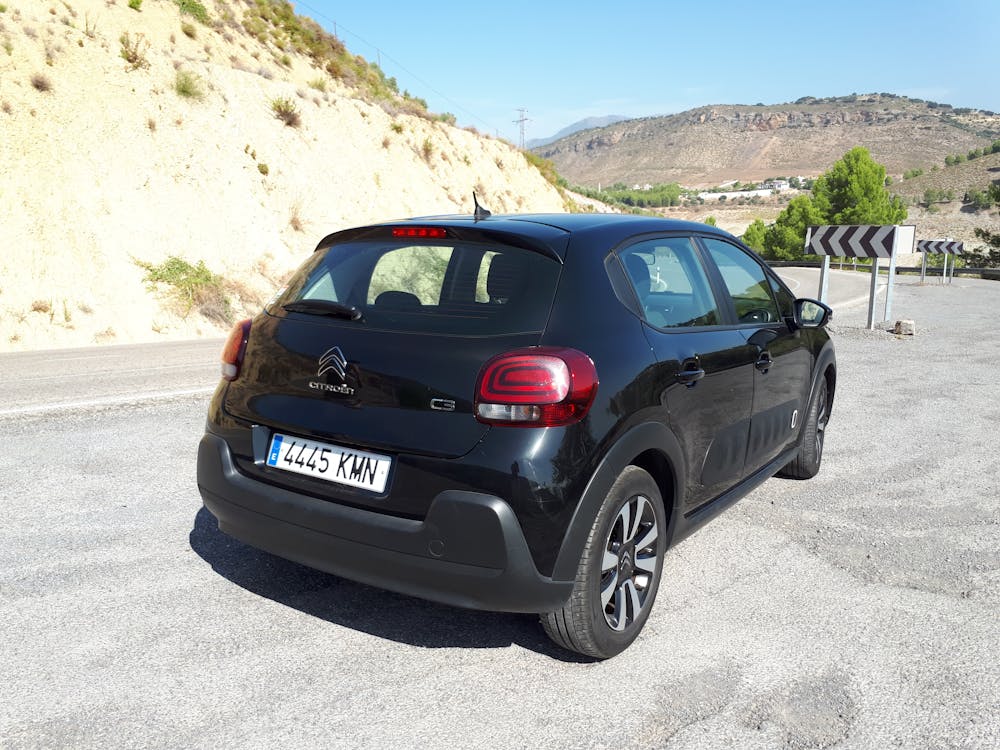 Most rental companies will not allow you to go by boat with the rental car to Morocco or any of the Spanish islands. Are you renting a car on one of the Balearic Islands? Then permission is often granted to travel by car or boat between the islands.
In car rental terms, crossing a land border is called: crossing a border. Before you book the car of your choice, read the rental company's terms and conditions. This will indicate under the heading "CROSSING THE BORDER" whether you are allowed to cross the border with the car in question and what costs may be involved. This option assumes that you will return the vehicle at the end of your trip to the country where you picked it up.
One-Way: Return the car to a different location
If the return location is in the same country but in a different place, you can indicate this during the booking process. You will then be charged a "ONE-WAY" fee, which you must pay when you pick up the car. Contact the rental company in advance to ask about the amount for one-way charges. Often, they are not listed in the terms and conditions. This is because the cost depends on the distance between the two locations.
Would you like to use one-way internationally, i.e., rent in Spain and deliver in Portugal, France, or even the Netherlands? Then you will always need to contact the rental company in advance to inquire about the options and costs.
What is the price of a rental car in Spain?
The price you pay for a rental car in Spain depends on a number of factors. However, remember that, especially when renting a car, this rule often applies: cheap is expensive.
The rental price of a car depends on the following factors:
Do you want a fairly new car, a car with low mileage, or do you not care to drive an older, frequently used rental car;
Which category does the car of your choice fall into, the bigger or more special, the more pricey;
A car with an automatic transmission is more expensive than a manual car;
How important do you think it is to be adequately insured against damage;
Is there a limited number of free miles per day or unlimited;
Do you want to pick up the car at the airport, or do you want to find it elsewhere;
Do you want to include an additional driver in the rental agreement;
Do you need, for example, a child seat or GPS in the car;
Are you under 25 years of age and/or have had your driver's license for less than one year;
Do you want to pick up the car outside business hours;
Do you want a different return location;
Are you going to cross a border with the car;
How many days do you want to rent the car?
Personally, we like the feeling of driving a relatively young and reliable car during our vacation and being well-insured without any deductible.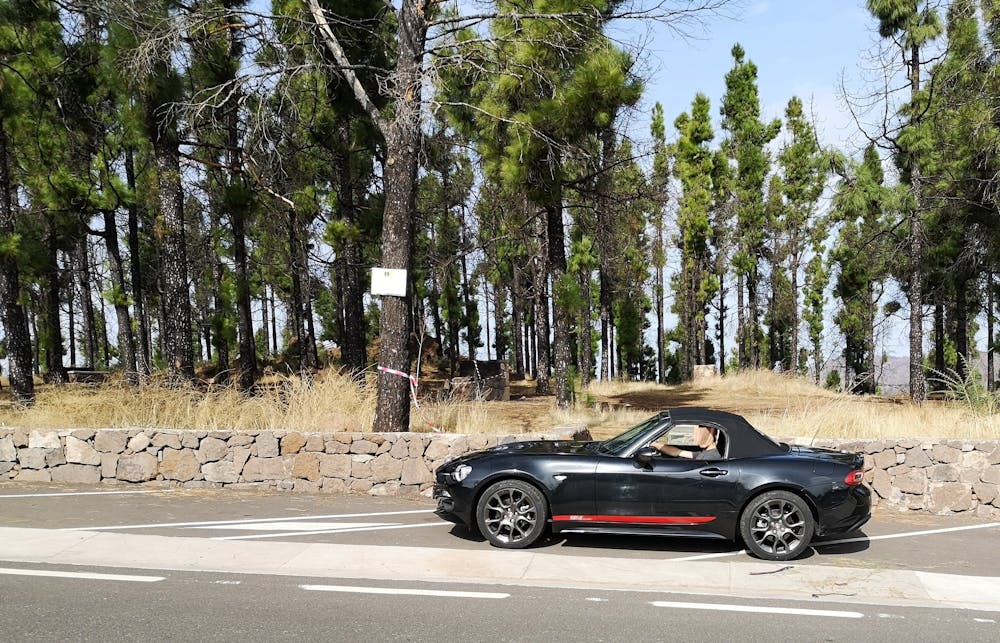 Renting a convertible
Especially in spring, renting a convertible in Spain is a must. Driving through beautiful Spain with the sun on your head and the wind in your hair is lovely. You pay more than for another car, but then again, it is a special experience. Some precautions:
Bring a scarf/hat;
Wear sunscreen and stay hydrated;
If you park the car with the roof open, the seats reach very high temperatures. A towel on the seat would be nice;
Bonus tip: don't want to find the car's interior soaking wet after your break? Then before you park, check the area for garden sprinkler systems!
Most rental companies include convertibles in their offerings. If you want to cross a border with the rented convertible, you often pay a surcharge when booking. A rented convertible must usually be returned to the location where you picked it up. Occasionally it is possible to get permission "on request" to return it to another location.
Tips for carefree car rental
Having access to a car during a trip or vacation makes the experience complete. However, most people are reluctant to rent a car abroad. Nevertheless, during our travels, we rented dozens of cars in different countries on various continents without a single problem!
We like to share our experiences with you to minimize the chances of unpleasant experiences. Therefore, on this page, you will find our best tips for renting a car so you too, can have a carefree road trip.
Information per rental company can be found on our car rental platform. So you can choose which company you want to rent a car from in Spain at a glance.